By Sean Delaney
It's all about being part of a neighbourhood.
And ensuring your car runs properly and is 100 percent safe, of course.
Pertab Shivratan, owner of Tier 1 Auto and Exhaust Centre believes in being part of a neighbourhood. He moved to Canada from the United Kingdom over a decade ago and began a few Dollar Stores. He soon returned to London, he said, to arrange for his family, and then the group settled in Canada. His first job upon his return was with Sears Canada, and then he worked with Active Green & Ross until 2017 before moving on to operating a Midas franchise.
All of those business experiences made him want to operate his own. Instead of running a franchise, he said, he wanted to run that neighbourhood business that everyone knew and loved.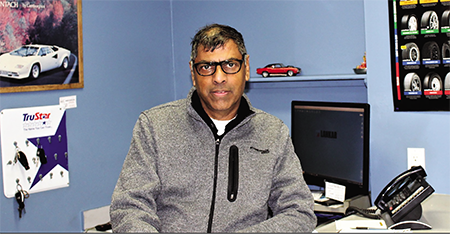 Purchasing the previous auto and tire business at his present location presented him with that opportunity.
This business had many loyal customers, and I believe in the neighbourhood business," Sivratan said. "I like supporting neighbourhood businesses and like to show my customers that I will work hard to make them happy and give them great service as well. I have a passion for the automotive business and a passion for this neighbourhood."
Tier 1 has four bays, certified experienced mechanics, and can provide services such as:
Oil Change and Filters
Choose from synthetic and conventional motor oils and their abundance of oil, air, and cabin filter brands.
Brake Pads and Rotors
Their certified technicians use quality replacement parts to ensure your vehicle's road safety.
Tire Sales and Replacement
They have a selection of brand-name tires that meet every need and will balance and install them for you.
Winter and Summer Tire Swap
It is well-known that winter tires ensure your safety on icy and snowy roads while they wear faster in the summer. Come and equip your vehicle with season-appropriate tires.
Tire Rotation and Alignment
Rotation and alignment help tires to wear evenly, maintaining original performance and extending tire life.
Coolant and Hydraulic Fluids
They can check fluids during your oil change and top up or flush and replace your old fluid.
Battery Replacement
Replace your battery every four to five years to ensure the car starts in the morning. They have access to various automotive battery brands and will install new and take care of your old battery.
Tune-up
Restore your vehicle's fuel efficiency and performance level
A/C and heating
Come and check your air conditioner or heater if you feel an uncomfortable temperature inside your vehicle.
Tier 1 is located at: 4200 Weston Rd (just south of Steeles Ave).
Phone them at: 416-749-9344
Find them online at: tier1-auto.ca