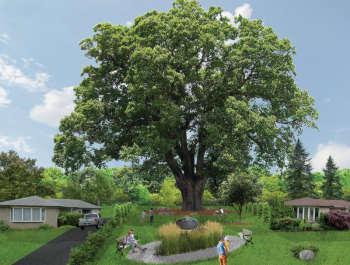 By Sean Delaney
Toronto's great red oak at 76 Coral Gable Drive has been a landmark and inspiration for more than two centuries. Due to its size, age, beauty and cultural significance, this magnificent 250-year-old red oak is recognized as a heritage tree under Forests Ontario's Heritage Tree Program.
Following Toronto City Council's direction, the City of Toronto has an agreement to purchase the property and establish the space as a parkette to preserve and showcase this beautiful example of natural heritage.
The completion of the sale is conditional upon the City fundraising $430,000 by December 12, 2020.
As of August 24, 2020, $127,687 has been committed to the campaign – which represents 30 per cent of the target. It's a good start, but more help is needed if the City is hoping to reach its target by the deadline.
Upon achieving the fundraising target and completing the purchase, the vision is to convert the property into a local parkette with the oak tree as its primary feature. The City would develop a formal landscape plan for the parkette but the inspirational rendering illustrates what the space might look like.
Donors from across the City, province and beyond have already committed to making this vision a reality, including a leadership pledge of $100,000 from Mark and Mary Cullen.
Join them in celebrating this natural wonder by donating now at: www.toronto.ca/redoak