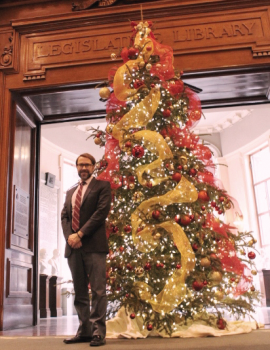 EVV: Tell us about your year and what you think some of your accomplishments have been?
TR: The first thing I do want to say is that serving my community day-to-day is the most important thing to me. I am also very blessed to have such fantastic staff. The feedback I get from the community is that my office has been serving them well. We've dealt with many, many different issues and I'm pleased to say that people seem satisfied that we're able to solve their concerns when possible. I get that feedback because one of the things I've committed to is being everywhere as much as possible and to meet with every group that asks me, as much as possible. Every parent council, every school community, every community centre, every senior's group, the stakeholders in our area, all the organizations, and over time, hopefully even some businesses.
I want to hear their concerns, be present when they're looking for change and be a strong conduit for them at Queen's Park and to carry their voice and their needs in the Ontario legislature.
Ninety per cent of life's success is showing up. I think that you're elected to represent a community and you have to be there. In my case, I love doing it. Being MPP is a dream job for me and a real honour and privilege for me, so I'm happy to be out there on the weekends and evenings, whenever people need me.
EVV: Is there a particular moment that comes to your mind when you think about 2019?
TR: I think that there's a number of things. I'm the critic for government and consumer services, and also the critic now for auto insurance. The latter is something I was awarded by my caucus because I've been pushing for auto insurance to continue to be an issue. I tabled a bill that would have put a billion dollars back into the pockets of Ontario's drivers. I think in the system we have, we are overpaying, and communities like ours are paying a lot more than we should.
I worked with an economist, an expert on auto insurance, and together we drafted legislation that would have modernized the cost structure of insurance. It would have opened the books and let people see what's going on. Unfortunately, the current government didn't support it.
I met with the Insurance Brokers Association of Ontario and Canada, held meetings with groups, stakeholders and discovered we need to modernize and protect drivers and ensure they only pay a fair rate. There is work that goes on behind the scenes. I've completed four town halls now, I've given a lot of opportunities for public consultation, we have hosted many meetings and events around issues whether it be government bills that we tabled that have a negative impact on the community, bills that basically would have allowed developers to continue to build and give less back to the community.
I did a health tour at the beginning of the year, visited multiple school communities, many seniors groups throughout the riding and talked to them about their feelings on access to healthcare around the community.
I'm also proud of the work I'm doing in my portfolio as Critic of Government and Consumer Services, especially pertaining to consumer protection. I was happy to work with realtors. There's legislation that would modernize real estate in Ontario, and this is a non-partisan issue. I was able to work with all people to try and make a better system.
By the time this interview will be released, I will have tabled a new bill that is an alternative, and I believe is a bold vision to protect newly built home purchasers.
EVV: Has anything surprised you in 2019?
TR: There are a large number of very active resident groups and associations. There is a solid sense of community that exists in Emery Village. We have homeowner associations that carry on regular meetings and provide updates about the community that will go so far as having newsletters and regular town halls. We have groups for everything from arts, nature and protecting the environment. I engage with those associations, and they keep me on my toes.
EVV: With 2020 around the corner, any hopes and desires for you within the area
TR: I'm going to continue to provide leadership in the area of consumer protection. Stay tuned, and you're going to see me take stronger stances on a lot of issues that I think will improve people's lives.
One of the items that interest me is that sellers have created associations and groups that are well funded but they mostly promote only their interests. Consumers don't have a place to turn to if they feel wronged or cheated. I'm going to continue to push the government to take a stronger position in protecting consumers. As well, I want to keep the conversation on auto insurance going. The community can count on me to be everywhere possible and for my office to continue to return calls and always be present in the community.
EVV: Any final 2019 words for the community?
TR: I wish everyone happy holidays, a very Merry Christmas and health, happiness and prosperity in the New Year.
I'm always going to be here.