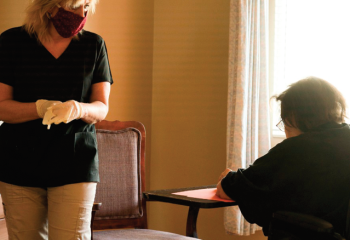 MPP Tom Rakocevic
The system of long-term care (LTC) in Ontario is failing our must vulnerable populations.
Governments have been hearing this for years from LTC residents, their families, nurses, PSWs and so many other health care professionals.
The circumstances and conditions they describe in LTC reveal that most residents are not living with the dignity they deserve.
Most residents in long-term care are seniors. They are our parents, and our grandparents; those who gave us life and nurtured us. However, in their time of greatest need, they have been forgotten by a system that too often puts profit ahead of lives.
The situation worsened tremendously during this pandemic. Most LTC residences in Ontario were simply unprepared and once COVID-19 gained a foothold, it spread like wildfire. Tragically, to date over 2,000 LTC residents have been lost to this pandemic.
The military had to be called in to help some of the hardest hit LTC facilities, and their report on what they saw was shocking. They found massive staffing shortages, critically insufficient direct patient care time, a lack of PPE, inadequate protocols and much more, leading to widespread graphic, unacceptable and heartbreaking conditions.
In July 2018, a bill was tabled called a "Time to Care Act" which calls for every LTC resident to receive a minimum of 4.1 hours a day of direct care.
This bill has been vigorously supported by LTC residents and their families, and countless health care workers and advocates.
This October, I voted with all MPPs in supporting the second reading of this important bill, thereby sending it to the committee stage.
While this may seem encouraging, it is the fourth time an NDP MPP has tabled this crucial legislation. Each time, it would receive unanimous support only to have the bill die in the committee stage before it could become law.
Passing this bill and making it law isn't just the right thing to do, it's a moral imperative. Our parents and grandparents, even our children and future selves are counting on us.
Your voice matters.
If you agree that now more than ever, it is a time to care, please feel free to email me at:
TRakocevic-CO@ndp.on.ca