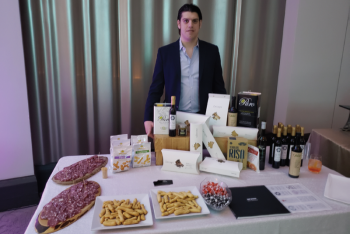 By Sean Delaney
Puro Specialty Foods: Puro Artigianale, the manufacturers of Olio Puro, is a third generation company begun by Massimo Rotundo's grandfather, who had a dream of creating and marketing the finest olive oil in Canada.
"Our oil comes from the region of Abruzzo in Italy. The olives are grown on hilltops which have a slight elevation while also being very close to the sea," Rotundo said. "The result is a unique type of olive which gives a very distinct texture and flavour."
The La Caprara family has been producing and distributing olive oil for more than 30 years. Rotundo and his mother Dolores are the Principals of Puro.
As with Olio Puro, everything they feature is created in small quantities with the maximum attention paid to detail.
"We use some of the highest quality olives available. The production of our extra virgin oil is simply pure, and this characteristic is evident in all of our oils and products," Rotundo said.
Approximately six or seven years ago, the company expanded to bring other artisanal products, from pasta, artichokes and bread sticks, all tending to be natural, organic, or just the highest quality they can find.
"I don't want to say higher end but real, bucking the traditional trend of price and shelf space you see in retail," Rotundo said.
Two years ago they began a wine agency, pairing and matching similar style wines to foods. Predominantly Italian, he said, but with some Spanish and Californian.
But their prized product is their one-of-a-kind olive oil. In such demand, it is ordered by appointment only, with a minimum amount being the five litre can for $70.
On Saturdays, families they have done business with for years come to pick up a reserve allotment. And what started with the company putting out cookies has grown to them featuring other food products and having a guest chef attend.
"People will come in and we have the wine agency, so we will pour some featured wine, enjoy a growing list of products, it's a cool little community and it is expanding on its own, all word of mouth," Rotundo said.
if you are interested in some of the GTA's finest olive oil, or sampling some of the other fine products and wines Puro now features, you can find them at: puro.ca
They will email out a catalogue, and have a walk in price list. A website for wines is also launching soon.