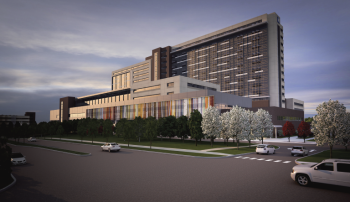 Lean, green and digital
By Sayada Nabi
Wouldn't it be nice to not have to step foot in a hospital in your lifetime?
Sure, but that's highly unlikely. So it's nice to know that just in case, many in our Emery Village community will be able to count on having one of the most sophisticated and state of the art hospitals in all of North America right in our backyard.
The new Humber River Hospital is set to open in the middle of October. It's been 10 years since the Province of Ontario first approved the proposal. What seems like a long time is diminished by an examination of the planning and construction required for the impressive facility.
The hospital is located on the Downsview Campus on 30 acres of land, near Keele and Wilson Ave.
Once built, it will occupy 1.8 million square feet, and include 656 patient beds.
The planning of the new hospital had three main objectives.
Being lean, being green and fully digital.
Being lean is based on the philosophy of function; it means the hospital will achieve maximum efficiency in workflow through the use of staff and the latest technology. Patients will have the very best care, delivered more quickly than what they have been used to.
Secondly, health and the environment go hand in hand.
Keeping that in mind, the hospital ensured their design met Leadership in Energy and Environmental Design (LEED) requirements. An example is the hospital's green and white roofs, as well as automated climate and lighting control.
Third, and the most fascinating aspect of this redevelopment, is that officials have labeled the hospital as "North America's first fully digital hospital."
While all hospitals have technology, achieving the decription 'full digital' means a facility "utilizes the most current technologies to enhance all aspects of quality care."
According to that definition, as of right now, there are no current hospitals in North America that are recognized as fully digital.
The hospital will have robotic blood testing as one example of the new technology. Blood test results will be obtained in mere minutes instead of hours.
With patient care at the heart of this redevelopment, patients will have the ability to control lights, use the phone and order food from their bedside terminal.
(Yes this is room 215- could I please have double mashed potatoes and gravy? Yum!)
In light of the new development, the old hospital near Jane and Finch will be utilized as an ambulatory care centre.
It will provide emergency services and dialysis treatment to the local community.
The hospital at Jane and Church St will be closed.
We look forward to supplying our readers with up to date information about the new Humber River Hospital.
Starting April, we will publish monthly updates and continue all the way until the official opening in October.
A little more than 200 days from this print!