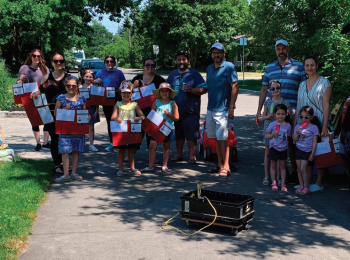 By Sean Delaney
The Red Bag Food Drive is doing its part to help Emery, and the group is also working to boost awareness to the importance of food banks. The 2020 Red Bag Food Drive is hoping to inspire communities around the city to take part in drives and help reduce food bank shortages.
This will be the third annual Red Bag Food Drive, which to date has raised more than 12,000 lbs of food in three communities.
This year the Red Bag Food Drive announced that the Humbermede community became the fourth community to participate.
This year's drop off and pick up dates run from December 3rd through to December 9th in the Strathburn Park Community, Joseph Bannon Park community, Pelmo Park community, and Humbermede community.
Michael Verrelli and Brigette Contento are willing to help anyone who would be interested in organizing a Red Bag Donation Food Drive in their community.
Michael Verrelli, 416-464-9007 or: mikeverrelli@royallepage.ca
Brigette Contento, 647-889-7411 or: brigettecontento@rogers.com