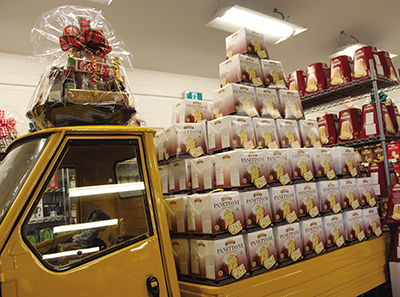 By Sean Delaney
Shop Aurora's Cash and Carry and make this holiday season the one to remember.
Some would say that the Italian holiday food experience is one the most inviting. Starting with one of the most popular foods for gift-givers is the delectable, Panettone. Panettone is a sweet bread originally from Milan, usually prepared and enjoyed for Christmas and New Year. Light, fluffy with candied fruit and raisins, one taste, and you will be gastric heaven. At the Aurora Importing Cash and Carry store you can find many top brands of Panettone, including the much sought-after Dolce and Gabbana/Fiasconaro artistic collaboration.
Annette, Aurora's Cash and Carry store manager, says that these two have perfected the making of Panettone using only real and the finest ingredients.
"It really is an art, an authentic Italian experience. And soon we will have the store all dressed up, beautifully decorated and ready for the holiday season."
Creating the right, highly personalized, and one-of-a-kind custom gift basket can be an enormous challenge. And should you settle for less for loved ones, family, and friends for that special occasion?
Aurora Importing also offers a variety of beautiful premade gift baskets on the Cash and Carry outlet store on all occasions.
For those gift baskets, Aurora Importing can help when you require a more standout gift basket. Aurora's custom gift basket assembly group has it covered whether you're celebrating a birthday, anniversary, an employee recognition program, charitable fundraising, or perhaps an annual company golf tournament.
If chocolate is your favourite, then, again, Aurora's the place to visit. There you will find a great selection of Lindt, Donini and Perugina chocolate products.
In addition to the large selection of products available at Cash and Carry, Aurora also offers a great assortment of weekly specials on essential items.
The Aurora retail outlet is conveniently located at 350 Clayson Road. Store Hours are Monday to Friday, 9 a.m. to 5 p.m. and commencing November 5th for holiday shopping, Saturday 9 a.m. to 1 p.m.
Phone them at :(416) 401-2055
Email: cnc@auroraimporting.com
Or online at: auroraimporting.com