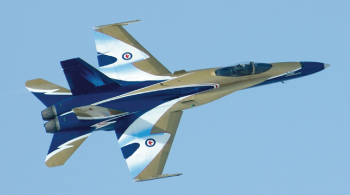 By Sean Delaney
Tempo Aerospace is an iconic Canadian company with a long, long history.
It is one of only two Canadian paint companies that do the level of exporting it does. And behind the scenes, this is not only art, but an intricate science.
The company was founded in 1956 by the Jacobsen family and moved to Fenmar Drive in Emery Village in 1977.
There they built a 25,000 square foot purpose-built building for paint manufacturing.
"In the early days, we did a lot of manufacturing of paint removers, lacers solvent, and sold to Canadian Tire and distributed through their networks," said Sean Chapman, President of Tempo Aerospace.
"Soon after moving into the Fenmar Drive location, we got approval with de Havilland and Bombardier and supplying their airframes, whether it be the Twin Otter, the modern-day Q400, global 5000s, and others."
The majority of Tempo's coatings for aerospace go on the interiors. Every inch of a plane gets painted with primer and topcoat, Chapman explained.
And at the same time, they are also busy with a lot of fleet trucking companies and construction companies in the area.
They are one of only two companies in Canada making paint for aerospace, and have taken a slightly different tack, Chapman explained.
"We're going heavy on the export side. Aerospace manufacturing is a global business. One year it might be in Ireland, the next year maybe in China. We're in over 30 countries worldwide. Last time I did a count, 34 countries shipping to over 600 client sites."
Tempo is full circle manufacturing, doing their own research and development, production, packaging, marketing, and administrative all out of their Emery building.
Chapman purchased Tempo paint and varnish from the Jacobsen family in April 2000. Since then, the company has invested a lot into research and development, industry 4.0 initiatives, and become registered for their manufacturing.
"Which means we are very risk-averse and we also have excellent traceability."
They are major suppliers to the Canadian Air Force, and have done notable creative work for air shows seen all over Canada and the world, and have had their paint on the Canadarm 2. They sell coast-to-coast, and are big suppliers to Viking Air out of British Columbia. The iconic water bomber, with the well known yellow and red coating?
"Most of that is ours," Chapman said.
They maintain 21 employees in total and are intent on creating a diverse work environment.
One of the areas they specialize in is aluminum.
"We've had excellent success supplying guys who manufacture aluminum bodies. That makes us a little bit unique to a lot of the other paint companies and maybe a little bit more relatable to a metal banger, or the little fabricators."
Chapman said, though, his true goal is a happy place that all employees want to come to work.
"We provide quality products, we do it very well in good time, in good condition, and we're just reigniting the industry here. Most other aerospace companies get a drawing, and they say can you make this? They don't do that with paint. with paint they say here's the performance requirement we want, can you develop a product that can meet these barriers?"
Tempo can be found at:
205 Fenmar Drive.
Phone: 416-746-2233
www.tempo-aerospace.com