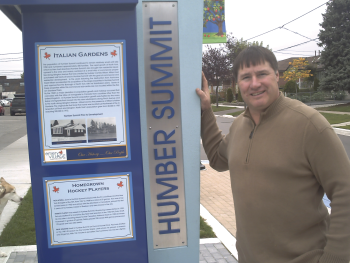 Many Emery Village residents of yesteryear undoubtedly displayed uncanny tenacity and determination when it came to the building of Emery Village's original homesteads. Whether they had to clear their forests or build their barns and buildings or prepare for everyday household matters, these families learned quickly that it was necessary to work together as a team and to be as tough as nails. That's life!
Emery Village and Humber Summit have always co-existed as neighbouring communities, together as one. Many of us know that recently, Humber Summit enjoyed their first street festival with their Wine Fest at Plunkett and Satterly right in the heart of Humber Summit.
This month's article will pay significant acknowledgement to two former residents and fierce fighters of Emery and Humber Summit of our modern era.
Paul Higgins grew up on Duncanwoods Drive in Humber Summit and later played in the NHL in the early 80s for the Toronto Maple Leafs. Higgins was actually hand-selected by Leaf owner Harold Ballard with the expectation to be one of the league's top enforcers. Ballard paid a personal visit to Higgins' high school for their first meeting and shortly afterward drafted the high school hockey player into the NHL. The Leafs had just lost a game that year very badly, recalls Higgins – probably 10 to nothing. He received a phone call from the Kitchener Rangers that he was to play in his first NHL game in St. Louis that night.
He started at centre ice on the opening face-off of the game, alongside teammates Laurie Boschman and Dan Maloney. During his second shift he recalls that he was cross-checked in the back from a St. Louis player who he then noticed was getting a penalty. Immediately, the St. Louis player dropped his stick and gloves to challenge young Higgins to his first NHL fight. Wasting no time, six straight left hands by Higgins resulted in him being expelled from the game and at the time he felt this may be frowned upon by the team's owner.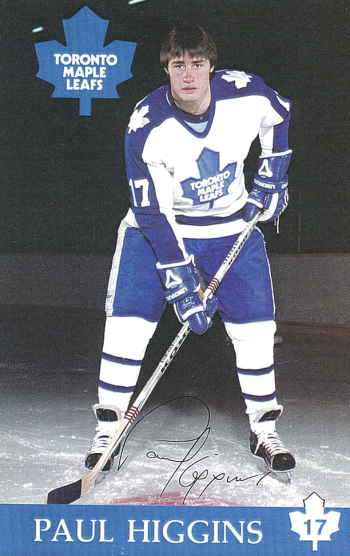 Higgins recalled, "For some strange reason, I was kicked out of the game." Descending into the showers, Higgins was interrupted by a team trainer who hauled Higgins out of the showers in order to talk to two visitors, all while clutching only a towel. Standing directly in front of him, wearing a full pompadour hat was King Clancy, alongside Leaf owner, Harold Ballard. According to Higgins, Ballard began whacking a chair with his cane shouting, "This is exactly the team spirit that the Leafs need." Higgins was instead praised for his tenaciousness by the Leafs top boss.
Onto the next story of another combatant from Humber Summit, who undoubtedly has become the greatest pugilist to come from our Emery community and is planning and poised to become the greatest Heavyweight Boxing Legend in Canadian history.
Donovan Ruddock lived on Rubydale Gardens in Humber Summit where he attended G.B. Warren Junior High School and later was a student at Emery Collegiate and also Westview Centennial. Young Donovan moved to North York at the age of eleven coming from Jamaica. In the eighties and nineties, Ruddock's professional boxing career was a stellar one.
Two consecutive matches with Mike Tyson were unfortunately recorded as defeats. However, the list of Ruddock's wounded foes are plentiful and infamous to say the least. No other Canadian Heavyweight boxer has been able to claim victories over four former Heavyweight Champions (Weaver, Smith, Dokes and Page) as Ruddock has, not even Canadian boxing legend George Chuvalo.
These days, Ruddock trains at the Cabbagetown Boxing Gym and he is focused to get his boxing license re-instated by the end of October. It's all for a shot to regain the Canadian Heavyweight title for an unprecedented third time.
Razor's wife of seventeen years, Tritcha-Anne, does not have an official title as his trainer and coach other than being his partner. The Ruddocks have taken on a lifestyle of being completely together with joint goals and joint victories to be shared by both.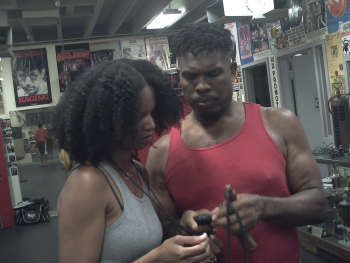 The two of them (informally I called them Team Ruddock) train in the boxing gym in perfect harmony, like clock-work, it's like watching an opera. The Ruddocks are the true modern-day version of a power-couple and their marital bond mirrors the tenacity of Emery's pioneer ancestors, as a couple.
The Emery Village Arts and Heritage Committee has already acknowledged other professional sports heroes from Emery and Humber Summit for recent street naming ceremonies in our community and on historic markers. A street naming ceremony for Donovan "Razor" Ruddock might certainly be down the road but with Ruddock's vision of regaining the Canadian Heavyweight Championship for an unprecedented third time, that would unquestionably seal the deal. A victory in true pioneer spirit.