We all hate winter driving.
Living in Canada, we're far too familiar with bitterly cold and long winters. No one enjoys driving in these snowy and icy conditions, but there is a practical solution: winter tires. We recently checked in with an Emery Village local Tire and Automotive Shop, Viking Tire, as well as Vito Braico and Amadeo Zagarrio.
"Many drivers wonder whether winter tires are worth the investment," said Vito. "We would like to explain how they make a difference with your drive, help keep you safer on the road, and are worth the investment. Also keep in mind that snow tires, in addition to giving you better traction in snow, also allow you to stop much quicker, likely avoiding a rear end collision."
Special rubber compound and flexible tread.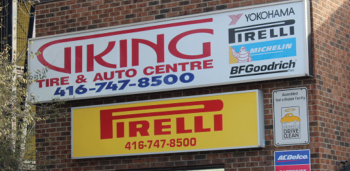 Winter tires have a special rubber compound that is designed for cold temperatures and stays pliable in cold conditions to give you better traction in wintery road conditions. When the temperatures are below 7°C, all–season tires become rigid and lose traction; therefore, we recommend winter tires for driving in cooler temperatures.
Designed with sipes
Small slits in the tire tread called sipes truly separate winter tires from all-season tires. Sipes in winter tires ensure that snow is dispersed, assist with acceleration from the stop position and reduce braking distances on slippery roads.
Look for the snowflake symbol
To ensure tires are winter certified, look for the snowflake emblem. Created by the Rubber Association of Canada and the Rubber Manufacturers' Association, this stamp ensures the tire meets specific snow traction performance requirements and has been designed for use in severe snow conditions.
Less complicated to all this technical talk, drop in or call Viking Tire at 1821 Wilson Ave. (416) 747-8500.