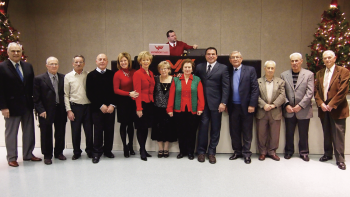 By Sean Delaney
I was fortunate to have been invited to the fourth annual North Islington Seniors Club Christmas luncheon on Dec. 13 at the St.Roch's Parish Community Centre.
More than 170 members attended the event and were tantalized to a very tasty seven course meal.
Everyone was looking their finest and enjoying the festivities that included a live DJ and local trumpeter Vittorio Mazzuca playing all our favorite Christmas carols. Ward 7 Councillor Giorgio Mammoliti along with York West MP Judy Sgro were on hand to welcome all in attendance and wish them a Merry Christmas and a happy 2015.
None of the festivities would have been possible without the hard work and dedication of the club's executive committee including President Rocco Giovanni ,Vice President Dominic Carlucci, Treasurer Petro Santi and Secretary Joe Abrruzzino.
Health and happiness to all of our senior club friends in 2015.