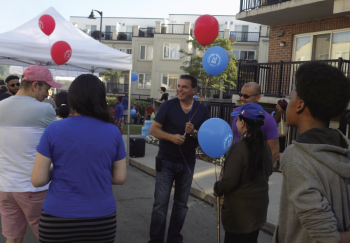 By Sean Delaney
In light of Canada's 150th birthday, the Harmony Village community, located at Finch and Islington, decided to bring back their annual barbecue. On Thursday, July 20, the community barbecue, despite a few years hiatus, had an incredible turnout.
The event included free entertainment, as well as free food. There was a live singer, balloons for the kids, a raffle and a variety of food options suited to everyone. Aside from the beef burgers and hotdogs, halal and vegetarian burgers were available as well.
The Emery Village Voice had an opportunity to speak with Councillor Giorgio Mammoliti and get his thoughts on the day.
"I was very happy to play a big part of the Harmony Village Community BBQ. It was an amazing opportunity for me to meet all my constituents and I was also very happy to see my residents laughing, eating and talking with each other.
"This is how a community should be," he said.
Community barbecues are a great way for neighbours to meet and get to know each other.
The Harmony event is a great example of what communities can do when they come together. Events like these are great community builders, a fantastic way to get involved and to meet your local Councillor.