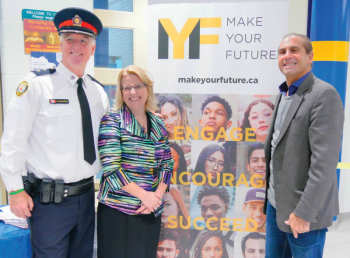 By Sean Delaney
Make Your Future 2 (MYF2) will happen on April 25th at Westview Centennial Secondary School from 11 a.m. to 2:30 p.m.
It's a combination job fair/post-secondary information event and will feature exhibits from numerous private and public sector organizations. Some are currently looking to hire young people while others offer training for specific sectors which are hiring immediately and others are offering guidance and information on how Grade 11 and Grade 12 students can plan a successful career path.
I recently caught up with Inspector Colin Greenaway of 31 Division.
The Inspector is one of the driving forces behind this wonderful event.
EVV: Tell us what your anticipating for the program, and what you're excited for?
Greenaway: "It's a really exciting time for us. I think this event is going to be much bigger, better more successful than last event. We're having it during a school day now, on a Thursday. And Westview has been gracious enough to give us their facility for half a day. We have Farley Flex coming back this year, we have more different opportunities for employment for the youth, we have this great music video we're going to see today that's been put out to show the youth that we care about them. And the people that put this music video together come from this area. so it's a lot of buy in from the area."
EVV: The idea was let's get some job opportunities in front of youth?
Greenaway: "This year we invited Grade 11 and 12. There are going to be employers from all sectors, universities, community colleges, emergency services, military, the catering industry, three, four different unions, people from the music industry. It's going to gives hybrid of anything you'd want to do moving forward. And show some of the training, education, you need, or even the education you don't need, and some of the salaries available."
EVV: And your personal goals?
Greenaway: "We're literally trying to help students make their own future. were trying to present as mush different variables, and opportunities in was they can have that day. Were gonna supply some great food, its going to be great in our community. And you really need the whole community to make this a successful event. We're trying to step outside the box. do something more innovative, something more connected to the youth, and something that's going to make them take a better path in life."
For more information please visit: www.makeyourfuture.ca