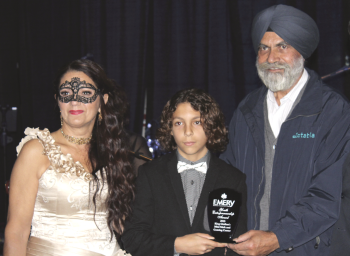 Giulian Carnovale wins youth award for gaming centre
The Youth Entrepreneur Award recognizes a teen or young adult under the age of 35 who in their formative years have embraced business acumen and had success with their work and promising career.
Guilian Carnovale has a love for two things, hockey and video games. Remarkably, at the very young age of 10, Giulian has combined both in a budding business.
He approached his parents with an idea to open up a birthday centre where children can come and play mini sticks and video games.
After careful research including product and marketing, and the selection of a brand, King Giulian's Mini Stick and Gaming Centre was born and the doors opened on this new business.
After six months, more than 1,000 children have been hosted, with Giulian running things at most times – unless of course he has his own hockey scheduled. Soon he's planning for a second location and a chance to be on Dragon's Den. His moto, Eat-Sleep-Play Mini Sticks.
Prochilo Brothers earn green award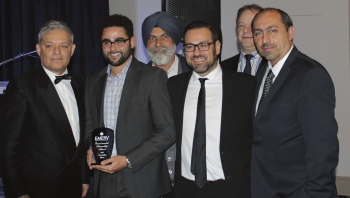 The Environmental Stewardship Award recognizes an individual, group or business whose displayed outstanding efforts in promoting the responsible use and protection of the environment through conservation and sustainable practices. The individual, group or business have integrated and applied environmental values in their organization's mission, operations, supply-chain and products.
Adam and Paul Prochilo are the second generation owners who believe that treating customers like family are ingrained in the culture of their business model.
Their father Domenic started the company 40 years ago at their current location on Toryork. Since then they've not only grown locally but established two other locations across Toronto.
Prochilo Bros. have incorporated an environmental mission and program to ensure not just compliance but that every facet of their operations includes opportunities to reduce its carbon footprint with eco-friendly solutions.
These include the adoption of water based environment- friendly paint, waste recovery, recycling and emissions and disposal controls. Prochilo Bros. philosophy is to be your eco-friendly alternative in collision repair.
Accepting the award for Environmental Stewardship Award, please welcome Adam and Paul Prochilo.
Trento Motors takes Chabot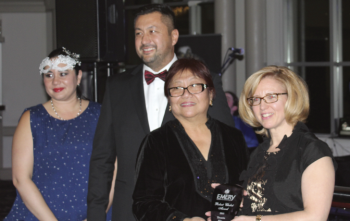 The late Robert Chabot is a founding member of the BIA and the owner of Centennial Sweeping Ltd. In 2003 Chabot, along with his daughter Lorraine steered a committee that led to the creation of the Emery Village Business Improvement Area. Today, we honour the spirit of his contribution to his community by recognizing the special effort by a business or business person who has proven a record of commitment and innovation to succeed while mindful of the shared responsibility to the environment and the business community.
An immigrant from Italy in 1957, a young mechanic named Renzo Moser started his own repair shop. That repair shop eventually grew into a full dealership by 1973, located on the south side of Steeles.
When it first opened, Trento Motors was among just a few buildings on Steeles Ave. surrounded by what was largely farmland. Over the years, Renzo hired a variety of people and provided new immigrants an opportunity to work and establish themselves as the business grew.
Trento Motors became a fixture in our business community, and Renzo himself is always ready to lend a helping hand to the community he serves.
From Children sports, such as hockey, soccer and baseball, Children's Breakfast Club, charity golf tournaments, Emery Fest and senior clubs – all benefitted from Trento's participation.
Satin Finish is the biz of the year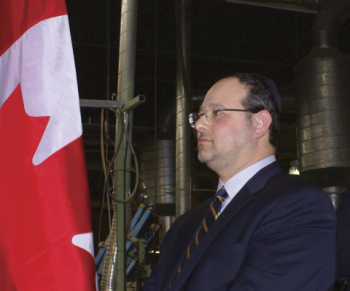 The Business Of The Year Award
is given to an exemplary business with a well-earned track record of success and longevity in our BIA. The recipient, in forging success over formidable challenges are beacons to emerging entrepreneurs in creating sustainable business enterprise while pursuing goals, and attaining success in their respective fields. The recipients have created jobs and provided needed skills upgrading and succeeded in creating a modern and dynamic workforce.
Satin Finish Hardwood Flooring has more than 90 years of "Getting it Right."
Satin Finish has learned a thing or two about successful manufacturing and Shmuel Zimmerman, CEO of Satin Finish, shared with us their secret.
It's about keeping it local – starting with responsibly sourced wood from local farms and forestry groups and includes their commitment to their employees and customers. Satin Finish prides itself in its genuine approach and long standing reputation for reliable quality across Canada.
In addition they've reduced their carbon footprint and ensured their employees access to skills training necessary to compete in today's fierce economy.
The BIA was proud to announce Satin Finish for the 2015 Business of the Year Award.