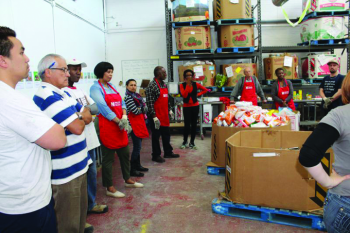 By Sean Delaney
Thanksgiving has been celebrated in Canada on the second Monday of Oct. since 1957.
Marking the beginning of the holiday season it is a time for harvest, appreciating family and reflecting on all the blessings in life.
Traditionally a family surrounds a dining table decorated with a turkey dinner and all the fixings. For many however, the traditional Thanksgiving is far from their minds, due to a sudden job loss or domestic issues, and they look to food banks to help them get by. This particular time of year food banks highlight the prevalence of poverty and hunger in the community and hold food drives.
The North York Harvest Food Bank reports an average of 6,000 visitors a month, including a 38 percent increase in visits since the 2012 recession. The majority of clients who use the food bank are newcomers to Canada, and two-thirds of the clients use the food bank for a year or less. The main reason clients' need help is the high cost of living. They live on a low income in a high cost city and 75 percent of their monthly income goes to rent. According to the Toronto Community Housing (TCH) approximately 25-30 percent of a given income should be put toward monthly housing costs.
The issue stems from supply outweighing demand. More people are looking for affordable housing then the TCH can provide. The following items are particularly useful to the community we serve. Please remember, the food banks do not give out any expired food and all food must be no more than three months past it's best before date:
Canned fish and meat
Canned beans
Canned tomatoes
Baby Products (formula, food, diapers)
Rice (or quinoa)
Cooking oil
Peanut Butter
Pasta and pasta sauce
Flour
Low sugar cereals
Low sodium instant meals and soups
Nutritional supplements
Looking at the statistics and increase of poverty within North York, the holiday season should not be the only time of year when we think about others. People are always in need, and we should donate whenever we can, not just one or two months out of the year.