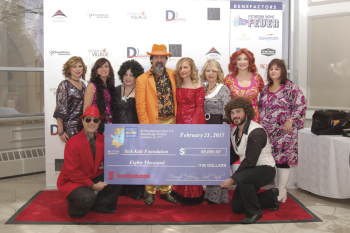 A local Emery Group pulled out all the stops again!
Friends Helping Sick Kids "boogied" the night away in support of a wonderful cause at the 14th annual Saturday Night Fever Disco Event.
Donning their best disco outfits and belting out BeeGee's tunes, the many guests enjoyed a fantastic evening of dining and entertainment, all in the support of Sick Kids Hospital. More than half a million dollars has been raised to date and this signature fundraising event is a key date in the social calendar of many.
Beginning with a reception and antipasto bar, guests then enjoyed "groovy" cocktails, an open bar, dining, dancing, a DJ, and the chance to bid on many items during both the silent and live auctions. Disco dress was "mandatory" with John Travolta spotted in the crowd! Held at the Fontana Primavera Centre, the memorable evening supports the wonderful work of "Friends Helping Sick Kids" – an organization founded on the principal of helping fund research and support for childhood cancers, in particular toward efforts to find a cure for Leukemia.
Many Thanks go out to this amazing group !