MODEL SUITE CAPTURES LINDVEST'S DESIGN PANACHE
The Brownstones at Westown, Lindvest's newest addition to the company's community at Weston Road and Sheppard Avenue West is attracting the spectrum of purchasers, from first-time buyers to empty-nesters. Buyers of all ages are astounded at the value in this collection of stacked two-bedroom townhomes priced from $329,900, with maintenance fees approximated at an unbelievable $0.19 per square foot – all in a 416 location, just 20 minutes from downtown Toronto. To reflect a myriad of tastes, Lindvest appointed LUX Design for the model suite. LUX did a brilliant job playing with neutrals, pops of colour, furnishings and accessories that reflect the contemporary-traditional architecture and appeal to a diverse clientele. The 942 sq. ft. Astoria model is a must see during your condominium shopping.
"To achieve a fresh look while incorporating a traditional sensibility, we selected wood tones to warm things up," says LUX senior designer Danielle Baker. "Grey walls contrast with the dark brown flooring, which has a touch of grey and complements the wood grain of the modern kitchen cabinet doors." The injection of vibrant colours and bold patterns in artwork and area rugs illustrates how buyers can infuse their surroundings with their personalities. "The use of area rugs is particularly striking in the suite's open-concept great room," Baker explains. "Combined with furniture groupings, they delineate the living and dining areas."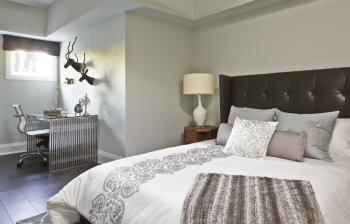 She also married modern and traditional furnishings and accessories. "The chandelier in the dining area adds a touch of traditional to the contemporary table and chairs, and the wood table top ties everything to the kitchen cabinets. You could as easily place this table in a rustic cabin, but it blends in well in this setting. We also used several pieces with clean lines and some whites to tie in an urban vibe."
The great room includes a space that is perfect for a desk and chair. "With natural light coming in from the patio, this is a lovely spot for working or placing an artist easel," Baker says. "The white desk we selected is quite large, and the green chair adds another punch of colour. Its woven seat complements the décor's rustic touches."
In the first bedroom, the stainless-steel desk has a glass top. Baker says, "The elk heads on the wall tie in with the dark colour of the leather headboard and reflect the modern-traditional main living area. In the second bedroom, the leather headboard is a lighter grey, and we used Saarinen style tables for night stands and placed a rustic lamp. Throughout the suite, soft sheers on the windows are elegant and allow natural light to filter in."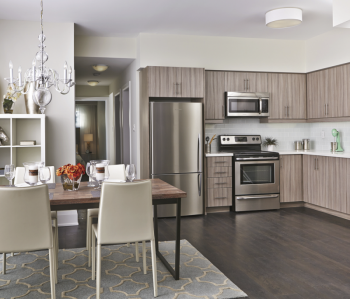 The fabulously functional Astoria design features lots of storage. There are closets in the foyer and Bedroom 1, a walk-in in Bedroom 2, plus space in the utility room. Buyers also appreciate having a powder room as well as a full bathroom, and the fact that the bedrooms are situated at the opposite end of the suite from the main living area. Purchasers can choose from different finishing packages to personalize their surroundings.
Westown is Lindvest's established community close to an amazing array of local amenities and steps from TTC. The Brownstones' architecture by RN Design is inspired by New York's iconic townhomes, and the collection will be finished off with professionally designed landscaped areas. Contemporary interiors by LUX Design offer high-quality features and finishes. Some designs have patios or balconies with glass privacy screens. Prices for the one- and two-level suite designs include one underground parking spot.
Lindvest is a Toronto-based builder/developer with deep roots spanning six decades in the highly reputed, award-winning H&R family of companies. Thousands of families already live in Lindvest homes across Ontario.
Visit the Brownstones at Westown's Sales Office and Model Suite today, located at 2277 Sheppard Avenue West. Hours are Monday to Thursday from 1 to 8 p.m.; Saturday and Sunday 11 a.m. to 6 p.m. For more information or to register, call 416-740-1175 or visit www.lindvest.com.