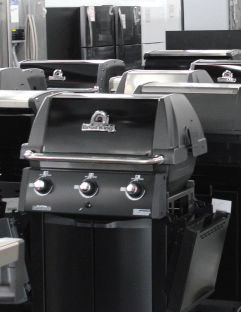 By Sean Delaney
TA Appliances & Barbecues is a one-stop-shop for appliance needs in Emery and a connection to four other A quality stores in their chain, if your desire is a higher-end product.
"This location is the only clearance centre we have," said Vince Lombardo, store manager at the TA Appliances & Barbecues Clearance Outlet. "Our four major stores, we call them our A stores, have all the most current, up to date appliances."
Since the appliance industry is frequently updating and changing, Lombardo said, the company needs a place to move their appliances out, so the floor models stay fresh.
"So if a model changes, or gets damaged or a scratch on any items, it ends up here at a discounted price."
The Arrow Road location has 10,000 square feet of appliances and barbecues from every imaginable brand name. In barbecues, while the sweet spot seems to be approximately $500 for most customers, Lombardo said, they have models that range from $299 to $5-6,000.
"The skies the limit," he said.
Smokers are a growing segment of the barbecue market because some people don't have gas lines, or don't like propane, and TA can service them as well.
In appliances, they have several energy-saving models, and with the federal government offering a 25 percent discount on any purchase of qualifying models, Lombardo said it's an upgrading opportunity many customers are taking advantage of.
"These models use less water and less energy than other machines, maybe because of a tumble action, top loads are popular in the laundry segment because it doesn't have to fill to the top, it' all done by sensors to add just the right amount of water," he said. "So technology is seeing it using less water, less soap, which causes less pollution. As well, they're spinning at faster RPMs so the dryer, which is the most expensive appliance in the house, is working less."
And technology is being seen in the refrigerator industry as well, with see-through doors so customers can see into their fridge before opening the door, and Wi-Fi enabled appliances to allow for online connection and control.
"You can even have a camera in your fridge these days," Lombardo said. "We don't have any here, but we can get them for you."
It's a clearance warehouse with mid to high-end appliances at competitive prices, he said.
And because of the possible scratch or dent, you're going to get an even further discount.
"There are always great deals here," he said.
Any appliances with a manufacturer's warranty maintain that on the sale, and delivery can be offered, or customers can pick up.
Lombardo will even work with a customer who has researched their appliance themselves, knows what they want ahead of time and is willing to wait for that perfect appliance.
"People leave their names and numbers all the time so we can call them when we get in what they want," he said.
They've always loved Emery Village because it's close to the highways and provides them a customer base from Vaughn, North York, Etobicoke and Mississauga as well as the rest of the GTA.
"It pulls people in."
If you're interested in a visit, find them at:
TA Appliances & Barbecues Clearance Outlet
24 Arrow Rd. Toronto
Or call the store at: 416-740-2677