By Elena Zolotko and Edith George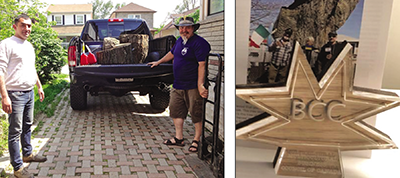 This story began with the awareness of the unique social, cultural, and environmental value of a more than 300-year-old red oak that was growing on historically significant land in a Toronto, Ontario neighborhood named Humbermede, located in the Humber River - Black Creek riding.
The tree was cut down on August 11, 2016.
This red oak was in the immediate vicinity of the historic Toronto Carrying Place Trail. The First Nations of North America used the trail as part of the trade route that connected northern and western Canada with the Gulf of Mexico. This tree could have been a marker for this path.
Edith George, who has lived in that neighborhood since 1960, is an advisor to the not-for-profit Ontario Urban Forest Council (est. 1963) and is a member of the Community Police Liaison Committee 12 Divi­sion of the Toronto Police Services. Through her pro­active collaboration with the CPLC, the wood of the heritage tree has been preserved in hopes of wood carving projects to be placed in various areas of the community and its environs.
Trevor Comer, a member of the CPLC 12 Division, was more than happy to donate some of the wood to Elena Zolotko, who specializes in cross-cultural com­munication and is the founder of the MBCC (Multicultur­al Business Council of Canada) and Board member of CEMA (Canadian Ethnic Media Association).
In 2019 a carved wooden frame from this oak tree was presented to the newly elected President of Ukraine Volodymyr Zelensky.