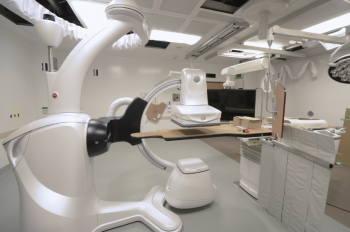 BY CARLA PEACOCK
Senior Writer, Humber River Hospital
The new Humber River Hospital is a showcase facility that integrates the finest possible equipment across the entire organization to enhance all key aspects of acute hospital care: quality, safety, efficiency and customer service.
Medical imaging is just one example of where new state-of-the-art equipment and technology will help staff and physicians deliver enhanced patient and family-centred care. "The quantity and diversity of imaging equipment at the Wilson site will be extensive and incredibly exciting for Humber River," says Dina Longo, Director of Medical Imaging, "using new technology will help increase the number of patients we can test daily, and provide faster results with even greater accuracy."
Access to imaging services is very important in the Emergency Department (ED) to help diagnose and treat patients in a timely manner. This is why we will have 24 hour access to general x-ray, ultrasound and Computerized Tomography (CT) imaging in the ED for quicker service for patients.
Our new CT unithas 4-Dimentional whole organ coverage, providing a more detailed cross-sectional image of bones, blood vessels and soft tissues inside your body. It is faster and has motion correction capabilities. In addition, the patient experience during CT scans will be more calming with 50 per centless noise, soft ambient lighting, personalized gantry displays, and a relaxing visual pattern inside the bore.
Our main Diagnostic Imaging Department, located on the second floor, will have five Interventional Radiology roomswith three robotic interventional units. This will dramatically improve access to testing and treatments for vascular, dialysis, cardiology, and oncology patients.
These units are the most leading-edge models available in Canada. They have an advanced guided arm to capture any imaging position for full patient access, and the ability to automatically highlight tumor-feeding vessels. Combined, these features help physicians visualize the affected area in real-time.
Patients coming to HRH for an MRI will be more relaxed during their procedure with a new 'Silent Scan' technology that reduces acoustic noise of a typical exam to the level of a whisper while still providing excellent image quality. HRH is the first community hospital in Canada to have this technology and use it in routine use, providing more comfortable patient care.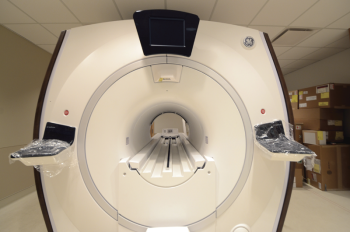 We will also be using new equipment and technology to its fullest in our new Breast Health Centre, also on the second floor of the new hospital. This includes two new mammography units with biopsy and 3-Dimentional breast tomosynthesis technology. This technology uses a short, low radiation dose x-ray sweep that produces a clear view of the targeted area, helping physicians provide a more comprehensive diagnosis.
This equipment will be located in a sensory suite environment which is designed to enhance the patient experience. It gives the patient visual and audible options of different calming ambiance settings to reduce anxiety. This can help distract the patient from any perceived discomfort potentially encountered during their mammography exam.
The Breast Health Centre will also have two new ultrasound units, and one new Bone Mineral Densitometry unit. This provides comprehensive services in one location offering efficient, convenient and high quality care for breast cancer patients.We are committed to ensure that all patients receive timely access to safe, quality care and treated in a manner that responds to their personal and clinical needs.
Humber River Hospital will have one of the most technologically advanced Imaging Departments in Canada, providing care to our patients with the "latest and greatest" equipment. But the new hospital is not about technology for technology's sake. It's about using that technology to enable our hospital team to further enhance the high quality care they provide in our current facilities. It's about enhancing the patient experience, and providing comprehensive services close to home for our community.