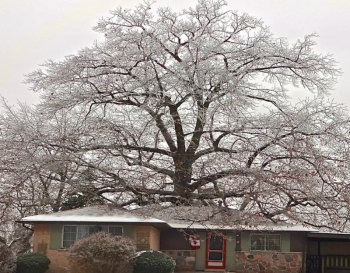 By Sean Delaney
If the public wishes to get involved, and put their money where a lot of people's hearts are, the massive red oak of 76 Coral Gable Drive might be close to being saved, forever.
The tree, which has stood more than 250 years, longer than the City of Toronto itself, needs $430,000 in private donations by Dec. 12, 2020, for the latest effort to see it preserved and become a local landmark come to fruition.
"We started this in November 2005. The property owner at that time, I happened to be biking past, simply said, I need help to protect my tree," said Edith George, an Emery resident and local historian who has dedicated much of her life to ensure the preservation of the massive tree. "When I saw it for the very first time it almost brought me to my knees. I could not believe how magnificent it was, and to have survived in an urban environment, it shocked me. I wanted to help her protect this tree. In my opinion, this is the most important heritage tree in Canada."
George and the property owner met with the local councillor of the time and the city, and asked about them purchasing the tree. At that time it was a no, she said.
Throughout the years, George continued to research the history of the tree. About five years, she said.
The property the tree sits on today was purchased in 2015 by Ali Simaga. The tree, which has survived decades of change and development, became a concern for Simaga due to its towering structure.
Simaga is said to have received advice that he should pursue an agreement with the City of Toronto to see the municipality purchase his land and turn it into some form of parkette, rather than the tree be felled. With its historical value and rare physical dimensions preservation has been on many minds, including the city. When the matter came before council again they finally decided to act.
In 2018, council carried a motion to direct staff to pursue an agreement with Simaga and make an offer; however the agreement had to fulfill one condition – that half of the purchase price came from private donations.
Negotiations with Simaga have been successful, and as of Dec. 9 of this year a conditional agreement is in place. Should the sale be completed, the house will be demolished and the land near Sheppard Avenue West and Weston Road will become a parkette, complete with benches and historical information about the tree.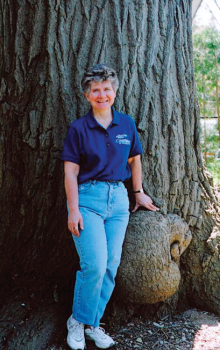 However, to complete the sale, Toronto residents need to donate the $430,000 by that deadline of Dec. 12, 2020.
And those involved, including George, are confident the effort will be successful.
Mark Cullen, a notable gardener, author, and Toronto Star columnist, along with his wife Mary have already donated $100,000.
George also continues to work toward the tree acquiring Ontario Heritage Act protection.
It is already recognized by the Forests Ontario heritage tree program as a heritage tree. George put in an application and was successful in obtaining a Heritage Toronto plaque, which means it cannot be removed or damaged without permission of the council, and now waits on a provincial plaque.
To make a donation, contact the City donations office at (416) 392-1144, or via online at:
donate@toronto.ca
Ask for instructions on how to donate.
Tax receipts are available for donations ranging between $20 to $50,000.