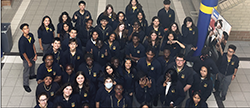 By Sean Delaney
St. Basil-the-Great's International Baccalaureate Diploma Programme is a world-renowned programme offered in 155 countries. It promotes an academically rigorous curriculum in six subject areas alongside character-building co-requirements known as the Programme's core. Students are required to take courses in Literature, French, the Social Sciences (either Geography or History), Mathematics, Sciences (including Biology, Chemistry, and Physics), and the Arts (such as Music). As part of the core, students also complete an independent 4,000-word research paper on a subject of their choice, take the Theory of Knowledge course in grade 12 (which explores the question: "How do we know what we know?"), and fulfill the requirements of CAS (Creativity, Activity, Service). CAS encourages students to become active members of their community while also exploring personal areas of interest.
The International Baccalaureate Diploma Programme is the only secondary school-level programme recognized by universities worldwide, enabling students to qualify for first-year university transfer credits. This programme embodies the SBC school motto: Excelsa Petite - Strive for that which is great.
On Friday, September 22nd, St. Basil-the-Great College hosted a series of workshops for its SBC Junior and IB students. The inaugural IB Fall Fun Forum marked the beginning of what will become a yearly event, officially welcoming back students from their summer break who are part of the IB programme. Throughout the day, students from grades 9-12 came together to build community and learn about the benefits of being an IB student. They participated in a myriad of activities hosted by IB teachers, enjoying a day of fun and camaraderie.
Student Marvellous Nwanna reflected on the IB program in Grade 9. "I wasn't sure it was for me until I started," she said. "The classes, teachers, and resources available were impressive. Seeing the bond between students motivated me. I knew it would offer future opportunities. Looking at American school applications, I realized having an IB background would give me an advantage. Most applying students have an IB education. Observing other students in my life who were in the IB, I noticed it not only made them better students but also better individuals. They're keen to learn more about the world and discuss diverse perspectives. You can discern it from the way they speak; they understand and relate to various people."
Liam Vu commented on the challenges: "Balancing my time with other courses, as well as the extracurriculars I'm part of, is challenging. However, I feel it's excellent preparation for university and beyond. We have a relatively small class size, allowing teachers to really engage. The curriculum goes far beyond the regular high school stream. The connections with the teachers are stronger, and they're always willing to assist and guide us."
If you'd like to learn more about the International Baccalaureate programme, contact the DP Coordinator, Ms. Melissa Ammendolia, at:
melissa.ammendolia@tcdsb.org