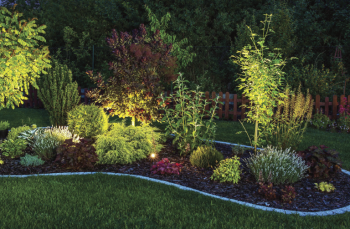 The warmer weather has arrived and we are all eager to get outside and enjoy it. An excellent way to do that is to expand your home's usable space into your backyard. Not only is this a better use of space but it can also increase the value of your home. Setting aside the investment aspect of it let's look at three ways to enhance our living space for our own personal joy.
Patios and Decks
The patio or deck is the focal point of any backyard so we begin there. When you enter your backyard where does your eye naturally go? Do you notice the flower bed, the shade tree, or that hideaway tucked beside your fence? This is where your patio or deck should be. It is ultimately a gathering place with a pleasant view where you can also have a little privacy. Place a table and chairs, colour the borders with bright planters and you'll have a haven for entertaining and dining outdoors.
Lighting
This is an area where you can really get creative, but remember less is more. An inviting atmosphere is the goal - think about a soft glow rather than glare in the eyes. Illuminated stairs and walkways are an absolute must while landscape lighting of trees and shrubs creates drama in the darker hours (just don't overdo it). There are so many different styles to choose from and you can use low-voltage or solar lighting. Best of all, with advancements in LED technology the cost is literally cents not dollars to set the mood for an entire season.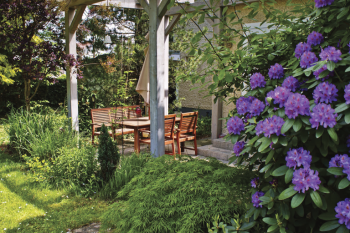 All Season Interest
Many homeowners go crazy planting annuals in the spring they can enjoy for only two or three seasons at best, but what about four season plantings. Evergreen trees and shrubs will provide you with structure and much needed colour during all four seasons, keeping your yard from looking sparse and barren in the late fall and winter. Nature didn't intend to colour your home brightly in the warmer months and have it look dreary the rest of the time, so make good use of her work.
These are three fairly simple ways to improve your outdoor living experiences. Try them yourself, get creative, and talk to your neighbours and friends about what they think works and doesn't work. Now you're on your way to a having a magnificent home both inside and out.
Do you know of a backyard or a garden in Emery Village that is particularly beautiful or interesting and is one of those well-kept secrets?
Let me know about it and we may feature it in an upcoming issue. Let's let everyone know how beautiful our community is. Enjoy the beautiful weather!
Ron Lazzer is the owner of Bellevue Landscaping. If you have any questions or comments please email them to Ron@BellevueLandscaping.ca