By Melanie Jonas

As I walk inside the doors to Globe Meats located at 65 Signet Drive, North York, Ontario I am immediately impressed by how clean and inviting it is, and the huge display of different products draped along the walls. I begin to casually stroll the aisles as I wait for the three owners, Dante, Daniel and Joe to sit down with me and tell me about their business expansion and what makes Globe Meats different from the many other speciality food stores. After a few minutes of strolling and checking out all the different foods and mentally making notes of what I wanted to purchase, the three owners greet me.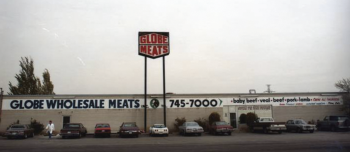 Globe Meats is one of those businesses that has become such an impresses company because of the passion and dedication all of the business owners have. Dante, the son of the original owner has been in this business since he was very young. Daniel also has a background in food and knows a little bit about everything. He said that working at Globe Meats for the past two and half years has been exciting because there is always something new going on, especially with the new expansion happening across the road. Joseph has known the DiBiase family for over 30 years so it was no surprise when he became part of the Globe Meat family when Dante's father, Pasquale DiBiase passed away. Globe Meats has been around since 1974 and it is here to stay. As I previously mentioned the expansion is underway and they will open new doors to the public December 2014.
The plan is to have a larger specialty meat area, more products and include a hot counter as well for those patrons looking to pick up something ready to eat. When I get down to the gritty questions about pricing it is apparent that all the owners understand that this is something they cannot avoid. They understand the competitive market but also do not want to reduce their quality to sell a cheaper product. So they don't. Understanding the difference in quality ultimately comes down to taste.
Naturally, that is what I did next, and I will tell you that the quality and expertise is there.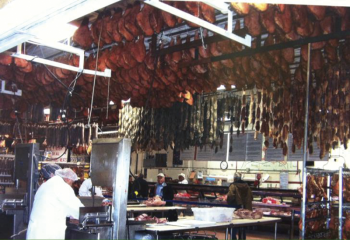 Their butcher knows how to cut a piece a meat against the grain to give you the most precise measure possible. It was a fantastic steak which I had and I now understand why sometimes, spending a bit more makes all the difference in the taste, much less than the few extra dollars spent. If steak is not your thing Globe Meats has something else that is sure to impress you, whether its lamb, veal, pork, chicken, goat, quality or beef, they have your bases covered. Globe Meats has something for everyone, even for the non-meat eaters. I bought some fantastic gnocchi and tomato sauce on my visit and was intrigued at some of the different brands I saw while doing some shopping. Even with this great expansion Globe Meats is staying true to their roots and will continue to sell quality A grade product to the public so take a look, go for a browse and try something different.