On the morning of April 14, a cloud of orange smoke closed Hwy 400 in both directions. Just after 11 a.m., Toronto police responded to a fire at an industrial factory in Emery Village. According to Toronto Fire Services, a chemical reaction occurred at an industrial fertilizer factory which resulted in the release of an, "unknown vapour cloud" into the sky. Buildings in the area were evacuated as a precaution, roads in the area were closed, and area residents were asked to shelter in place as the vapour was being reported as very toxic.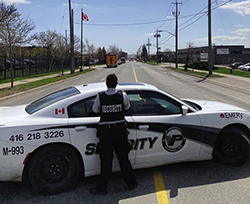 V.P. Protection Security is the company contracted to supply 24/7 security services to members of the Emery Village BIA. Vice President Morris Riviera, said they had two cars on the road the morning of the toxic spill.
"Usually, our day is full of things like parking enforcement, COVID policy enforcement, responding to alarms, checking for Break and Enters and ejecting trespassers from private property, but that morning was a much different one."
The team couldn't miss the giant cloud of orange smoke overhead. Two cruisers arrived at the same time as Toronto Fire.
Upon checking in with the fire command, the V.P. Security team created a safe perimeter and conducted traffic control.
A spokesperson for Toronto Fire said that the cloud would safely dissipate on its own, and Highway 401 and 400 reopened around 12:35 p.m. that day.