By Sean Delaney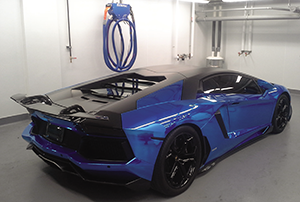 Eurovac is a family-run company providing vacuum solutions. They specialize in dust and fume extraction systems.
Their objective is not just to supply equipment but to supply engineered solutions to dust and fume problems.
"Our line of products includes portable and central high vacuum systems, high volume dust collectors, wet collectors, downdraft tables, fume extraction arms, portable fume extractors, pressure washers, and vehicle and transit cleaning systems. As well as a complete line of tubing and fittings, vacuum hoses, source capture sanding, and cleaning tools," said sales and marketing manager Rob Retter, who operates the company with his brother Charlie.
Eurovac was started by Burt Retter, father to Rob and Charlie.
Burt worked for a company called Spray Bake. They were a paint booth manufacturer for automotive body shops. And as Rob explained, having a good paint job on a car requires good clean air. So, of course, the vacuum technology was a big part of the booth. When Burt and his partner decided to part ways, his partner took on the paint booth portion of the business, and Burt focused on vacuum technology, and Eurovac was born.
"The name kind of confuses people," laughed Rob. "Really, the company started out in the body shop industry, and the technology was European. And it was a technology people wanted, so putting that into the name fit."
Rob explained that there were not a variety of manufacturers in Canada; in fact, there was a lack of them. So, in 1984, Eurovac began designing and manufacturing its own. The company started manufacturing portable and central vacuums for dust collection in body shops.
"We produce a high-quality product," Rob said. "We have a full manufacturing facility with our own paint line. A c and c cutter and laser devices, and we do everything in-house to keep costs down. We also employ a full team of engineers who are always looking to design new technologies and improve our products as the years go on. That's what sets us apart. We are always looking to improve.
The company was founded on vacuums for dust collection, but from that they saw that the technology could be used to clean a vehicle, and that's how they transitioned into automotive dealerships, such as the detail department for used vehicles and others. Rob said they moved into transit cleaning and car washes, their most significant business now. And, rather than just dust collection technology, Eurovac is now in several areas. "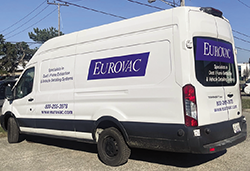 "When we started out in vacuums, we found different applications. So, now on the industrial side, we do aerospace, pharmaceutical, and almost every niche company that requires a vacuum. We can service."
Eurovac can be found at 44 Milvan Dr, North York
You can find them online at: eurovac.com
Email them at: info@eurovac.com
Or phone them at: 416-744-4276