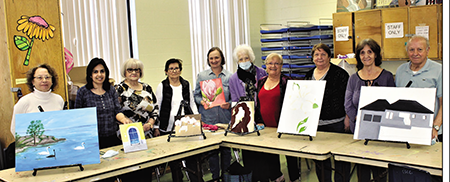 By Sean Delaney
After a new year's pandemic pause and spring break at the community centre, another Emery senior art class and social gathering session is underway again.
Each Wednesday, a group of seniors get together to develop their art skills under the instruction of Lucy Catania for painting and Lee Jackson for knitting. The class is affectionately known as, "The Lucy and Lee Drop-In Centre."
Some of the members are new to painting and beginning to hone their skills. Some have been attending these classes for a long time and have developed considerable artistic talents. But one of the most impactful benefits of the class is the social connection. Catania said everyone was happy to get out of lockdown and get out of their houses and see each other again after such a long period. Staying safe is very important, however.
"We are all fully vaccinated, and we pay attention to all health protocols," she said.
Everyone is welcome to attend, and it's free of charge. Just show up at the Carmine Stefano Community Centre (3100 Weston Rd.) Wednesday's at 10 a.m.
If you would like further information, feel free to send me an email at: sean@emeryvillagevoice.ca