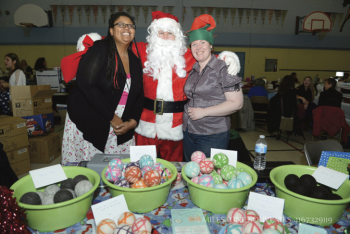 St. Rochs Catholic School is holding its 2nd annual Christmas bazaar on November 29 from 9 a.m. to 3 p.m.
Chris MacDonald is a member of the St. Rochs Catholic School Advisory Council.
"We are holding our 2nd annual bazaar that will be better than any other," MacDonald said. "Last year's Bazaar was quite successful. Having Santa Claus walking around and taking photos was an amazing experience for the children. We are striving for an event, more than a bazaar. We are looking at having children's entertainment, raffles, and swag bags."
The bazaar will be organizing with other charities to collect donations for the St. Rochs Parish Food Bank. "It is a very worthy cause. There are many people that need our help in the community, pensioners who can't make ends meet or people out of work for example."
When asked to elaborate on the bazaar Mr. Mac Donald went on to say, "Our bazaar will feature the usual as well as the unusual items. We want to include everyone who may have something to share. We are trying to get the Maple Leafs to provide some draw prizes. As I said before, this is hopefully going to be the bazaar that future bazaars are modeled after. How great would it be to pick up a Christmas decoration while shopping for a dessert and finding out about having your home painted or some renovations being done or even about having your home evaluated. I know that there will be at least 3 sets of silver earrings and matching pendants as well as a Toronto Maple leafs back pack home to be given away as raffle prizes. That is just the start."
The school is still taking requests from vendors for tables.
If you are a trades person just starting out or a seasoned pro looking for more clients, this is a great opportunity to expand your business. They also need vendors to sell baked goods, toys, crafts, clothing, and just about anything else.
"We want everyone to be involved, whether you are a business, or just want to make some extra money selling Avon or The Pampered Chef, this is the event to attend and on top of all of this, you get to know the feeling of helping the community come together with a variety of programs. The money we collected will be going to things such as school trips, equipment, jerseys, all things the school needs! So please come out bring the children and enjoy yourselves."
To rent a table or volunteer please call (416) 393-5320.