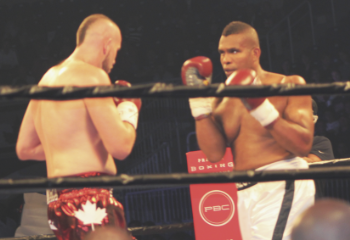 The wild ride of the boxing success story all of Emery has been following appears to have come to an end.
Donovan "Razor" Ruddock was counted out in the third round of the Canadian Heavyweight Championship fight held at the Ricoh Coliseum on Sept. 11.
"Razor" (51) has been determined, along with his wife Tritcha-Anne, to reclaim the Canadian title for an unprecedented third time. His training was focused and the timing of the fight seemed right. When the fight started, the action in the first round was leisurely and going Razor's way. The Champion, Dillon Carman, came out in the second round and began to fire off some really hard shots with a lot of movement. Consistent punches aimed for behind Razor's head, appeared to slow him down slightly. Carman has a history of throwing these undisciplined punches throughout his career. Many would argue Carman should have been called for a foul. The apparent violation went unnoticed by the referee who appeared to be more of a spectator throughout the match.
When the third round began, Carman began to press the action and Razor opened up with three consecutive firm punches which drove his opponent into the corner. Carman countered by what looked like pushing and pressing on the back of Razor's head with his left elbow as well as throwing two right hands that hit Razor behind the ear following through to the back of his head. Razor's legs wobbled and he went down for a five count. The fight was allowed to continue and Carman's blocked punches were enough for Razor to go down and be counted out.
To observers at ringside, it seemed Razor's impossible quest of regaining the Canadian title was over. His days in the ring may very well be over yet Donovan Ruddock now feels compelled to set the record straight and lodge a complaint to the boxing commission about the undisciplined and unsportsmanlike punches thrown by Carman. He said after the fight he feels they had a direct impact on the result.
Ruddock may decide to never fight again competitively. He has nothing more to prove in the ring, either to himself or to Dillon Carman. His legacy in the ring has been massive and inspiring to all Canadians. He has shown that his hands are big and his heart more immense. Donovan and Tritcha-Anne Ruddock have shown Canadians how dreams can be set and he led by example, for our youth. He laid out an outstanding standard as a great Canadian athlete and a Great Man. One facet is realistically assured. That Donovan Ruddock, who has dedicated much of his life to the sport of boxing, is poised to continue to be involved in Canadian boxing for a long, long time to come.