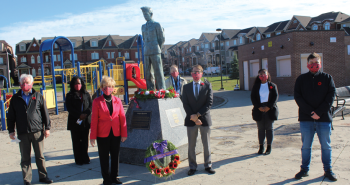 By Sean Delaney
On November 11th, Emery Village once again saw Remembrance Day ceremonies at Joseph Bannon Park. Unfortunately, due to the ongoing pandemic, there was no formal invitation to area residents to join in due to recommendations from the City of Toronto's Public Health Unit.
Instead, Emery Village BIA staff participated in the ceremony along with political representatives, who also spoke at length and helped to commemorate this day on behalf of the entire community.
Despite the ability to gather being restricted, the acknowledgment that all Canadians pay to our country's veterans remained the same. We are all thankful for their sacrifices and will never forget the gift of freedom. Tim Lambrinos, Emery BIA chair, was the master of ceremonies for the 2020 Remembrance Day ceremony.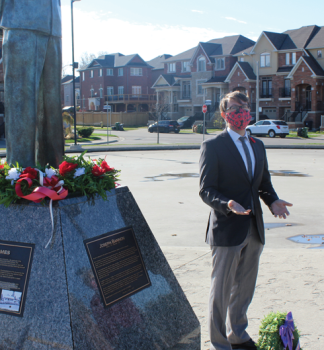 Keeping up an annual tradition, Lambrinos once again read the poem In Flanders Fields, written by John McCrae. The emotional reading was immediately followed by a moment of silence and an excellent rendition of, The Last Post.
This year marks the 80th anniversary of the Battle of Britain, as well as the 75th anniversary of the Second World War — a conflict that saw more than one million Canadians serve. Of those, more than 45,000 died and 55,000 were wounded.
Humber River-Black Creek MP Judy Sgro spoke of the need to commit to remembrance and honour all the men and women who sacrificed their lives in the line of duty in order to make our world a better place to live within. She pointed out the need to maintain equality and unity, not only in Canada but around the world. And that now, more than ever, it seems to be a time to display unity.
Area MPP Tom Rakocevic spoke of his personal family connections and the horrors and emotional scars experienced by his relatives in Europe, many of who had to endure the Holocaust. He spoke of family members never seen again and the need to remember all victims of war.
He remarked how the poem In Flanders Fields, carries forward a stronger message today than ever before.
The Emery BIA has traditionally organized a Remembrance Day ceremony at the statue in Joseph Bannon Park, close to Weston Road and Sheppard.
More recently, the event has become more multicultural. All residents are encouraged to think about how Canadian soldiers sacrificed their own lives for societies from many different nations worldwide. Honouring the memories of all those slain is a reflection that may help ensure that war never happens to Canada again.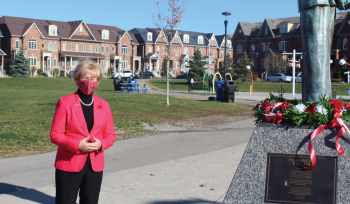 Today, we offer hope that the terrible virus now before us (COVID-19) will eventually terminate and next year's ceremony can be one that will be organized with an invitation to all.
We hope to see everyone next year on November 11th at 11 a.m. in Joseph Bannon Park for the 2021 Emery Village Remembrance Day ceremony.
Lest We Forget.