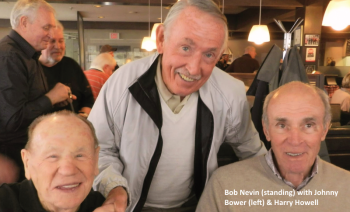 Yesterday and Today's regular monthly feature will be missed this month due to extenuating circumstances. Please join us next month on page six and continue to enjoy our journey into Emery's past.
------
The following is part of an article reprint from January 2018 by Tim Lambrinos. We have recently lost Toronto hockey legend, renowned Toronto Maple Leaf great, two-time Leafs Stanley Cup winner, Bob Nevin. His connection to the Emery community is that his brother, John Nevin's daughter Tracey is married to Emery Village Voice publisher, Sean Delaney.
Bob Nevin was born in South Porcupine, Ontario in 1938. At the age of four, his family moved to North York so that his father could be available to contribute in WWII. The Nevin family moved to a home along Glen Park Ave near Dufferin Street At the far end of their street, brothers John and Bob noticed a small swamp would ice over during winter. The boys began skating and playing hockey on the pond.
Eventually, the Township of North York decided to open and build an outdoor rink, Glen Long Arena. This is where Bob Nevin started playing organized hockey in a church league representing nearby Tabernacle Church. A scout named Mr. Humphries noticed Bob play in one of his weekly church league games. Shopsy's was a well-known team in the MTHL and Nevin would soon be a player on the team. One wonderful fringe benefit was that players would receive post-game Shopsy's hotdogs after every game. Nevin was placed on an NHL protected list of local players at the age of 12. This was done by the Toronto Maple Leafs' organization when they decided he was a future superstar.
In 1953, Nevin played Junior B hockey with the Weston Dukes. At 16, he began playing for the Toronto Marlboros and was paid $2.50 a game. In the 1955–56 Marlies' season, Nevin scored 34 goals and had 65 points in only 48 games. His outstanding scoring touch with the Marlies continued the next few seasons and with the Rochester Americans of the AHL. In 1960, Nevin scored 21 goals and had 58 points for the Toronto Maple Leafs in his first full season in the NHL. That year, he finished second in balloting for Rookie of the Year, losing to teammate Dave Keon. Over the next two seasons, Nevin was known for his solid two-way play helping the Leafs win two Stanley Cups (1962, 1963).
In Feb. 1964, Nevin was part of a trade package (with Dick Duff) when the Leafs acquired Andy Bathgate from New York. Years later, teammate Dave Keon applauded Bob and remarked, "I believe the trade of Bob Nevin and Dick Duff for Andy Bathgate was the start of the slide. If they had stayed, it would not have taken us 14 games to win the Cup. It was hard for Bathgate to play within our system."
A respected leader on and off the ice, Nevin began his six-year run as Rangers' Captain in 1965-66. He played just over seven years for the Rangers and topped the 20-goal mark on five different occasions. His best goal-scoring season with the Rangers was in 1968-69 when he scored 31 goals on a line with Dave Balon and Walter Tkaczuk. In the 1970-71 season, he led the team to 107 points and the Rangers developed into one of the elite teams in the NHL.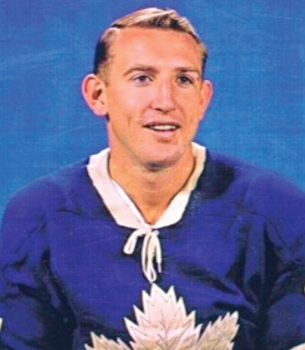 In May 1971, Nevin was traded to the Minnesota North Stars for Bobby Rousseau and once again provided solid team leadership with his distinctive two-way play. On June 13, 1973, he was claimed by the Los Angeles Kings in a reverse draft and hit the 20-goal mark for the first time in three years. The next year, he registered a personal best 72 points and tied his season's goal scoring record with 31. That year the Kings set a franchise record with 105 points. The following season would be Nevin's last in the NHL. He scored 55 points before jumping to the WHA. In 1976, after playing in only 13 games for the Edmonton Oilers, the classy veteran retired after breaking his collarbone.
In all, Nevin played in 1,128 NHL games and scored 307 goals. He played in a total of 84 post-season games and had 34 career playoff points. His 726 regular season points places him shoulders above a many NHL players who have been inducted into the hall. Nevin will turn 80 this March. To date, this obvious slight by the illustrious Hall remains a mystery. Nevin's fine character, skill, toughness, leadership and poise were qualities that he displayed to his fans throughout his entire playing career. And to think this remarkable legend of hockey all began on a frozen North York swamp with a young boy discovering hockey with his brother.
Yes, to Bob Nevin in the Hockey Hall of Fame.