By Sean Delaney
For Liberal MP Judy Sgro, 2022 was the year of challenges.
The Humber River Black Creek representative said it was another year that disappeared, as people lost another period of time out of their lives due to the pandemic.
"You know, 2022 was full of challenges for everyone, whether it was government individuals or businesses in particular. Every time I go down one of the local streets and see what's going on, the emptiness continues. Despite the government doing everything we could have done to see empty stores and factories, it still breaks your heart."
Those were small businesses, Sgro said, the businesses that could only hold on so long. The pandemic even affected the LRT expansion, including the Finch West arm, and impacted individuals and businesses further.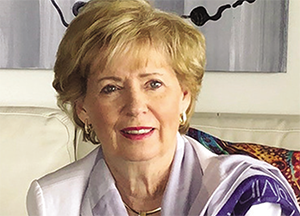 "I'm going into 2023 hoping we'll see some normalcy, but we've got a war in Ukraine, an uprising in Iran, and all kinds of problems everywhere. I think it's going to be another challenging year where we must stay connected to each other and support each other."
Sgro said the businesses in Humber River continue to look for opportunities to contribute to that recovery as they have no choice but to pass on inflation costs to customers.
"Our businesses have struggled with inflation, the LRT, and supply chain issues," she said. "Any time I've had businesses reach out to me, I've gotten them on to the committee, involved. It's tough, and we continue to do everything we can."
A highlight of 2023 will be the Indo-Pacific strategy announced in December 2022, Sgro said.
"It will open the doors for more significant trade, pulling away from China to the Indo-Pacific. They have a huge population and will be a big opportunity for many of our Canadian businesses."
Increases to pensions and the doubling of GST credits serve as highlights of other policy achieved in the past year for Sgro. And she looks forward to the federal government increasing healthcare funding to the provinces with certain accountabilities in place.
"A minimum amount of nursing care, this kind of thing," she said. "Once the provinces accept the fact we want additional accountability measures, we will give them the money. It's frustrating; 90 percent of the money used on the pandemic was federal money. They just sat on theirs. And we didn't want to squabble with them. We are always looking for ways to deliver the money directly."
And to Bill C-21, Sgro wanted to reiterate that her government is getting guns and decreasing gun violence, but the goal of Bill C-21 was to get rid of handguns and assault rifles, and it is not meant to go after hunters.
"Hunters are highly respected in this country, and the Government of Canada has no desire to legislate who can hunt a moose or a deer. We are trying to define assault rifles exactly and categories that are not going to be part of this."
Sgro wished everyone a healthy and safe 2023.