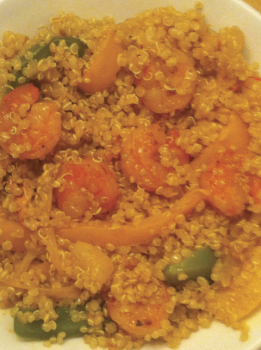 By Sayada Nabi
As the New Year rolls around, the turkey stuffing and desserts from all the holiday parties begin to take a toll on your body. According to the Toronto Star, losing weight and eating better are two of the top ten resolutions Canadians have made. Taking control of your health is an uphill battle, but it can be achieved by making simple changes to your habits. One change can be to substitute your intake of rice with quinoa.
Quinoa is a gluten-free protein high in fibre and also the only grain that contains all the essential amino acids. Its versatility allows it to be prepared as a main or side dish. Here is an easy quinoa and spicy shrimp recipe.
Ingredients:
1/2 cup Quinoa
1 cup Water
1 Green Pepper
1 Yellow Pepper
1 small Onion
1/2 cup small peeled and deveined shrimp
1 teaspoon of salt
1 teaspoon of cayenne pepper
1 teaspoon of olive oil
First begin by putting a medium saucepan on the stove to begin boiling the water. As the water boils rinse the quinoa thoroughly, otherwise it may taste bitter after itís cooked.
The ratio is 2:1, two parts water and 1 part quinoa. After the water is boiled add all the quinoa, stir, close the lid and bring the heat down to medium-low. Check back in 15-20 minutes. If all the water is absorbed then it is done. Remove from the stove and keep lid open to allow it to cool down.
As the quinoa cooks, begin dicing the onion, green pepper and yellow pepper. Put a frying pan on the stovetop, add the teaspoon of olive oil and add onions at a high temperature. As the pan heats up, add the shrimp, and after fives minutes reduce the heat to a medium temperature. Add the salt and cayenne pepper and continue to cook the shrimp for another five minutes. After the shrimp is done, all there is left to do is assemble the dish.
Take some of the quinoa on a plate; add the shrimp, green pepper and yellow pepper. Then mix it together and you have yourself a plate of quinoa with spicy shrimp.
If seafood is not your forte just use your favourite meat instead. Or if you want a vegetarian option just mix the quinoa in with your daily salad to boost up the level of protein.