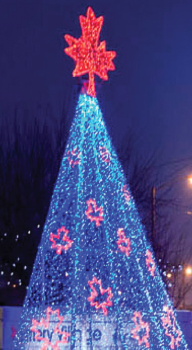 We're almost through one of the busiest times of the year, and this year, no doubt is more hectic than ever. We're all navigating through change at an entirely new pace. On the one hand, change can be exhilarating, and on the other, it can be exhausting. No one knows precisely what is in store, but one thing is for sure – pivoting is the new normal.
It's been a few months since I last reached out. I hope you are doing well and managing through the end of this challenging year. Who is also excited to see 2020 in the rear-view mirror?
One thing that has given me tremendous help during the last several days is focusing on the holiday spirit that is all around me, including the decorations lighting up our Emery neighbourhoods.
A vaccine is now being rolled out across this great country. Yes, it will take many months for most of us to be vaccinated. But, that means we will increasingly start to focus on the positives. With the light being seen at the end of the tunnel, we have renewed hope.
There is no doubt that Emery Village has seen some of the most challenging years in half a century. Both residents, small businesses, and specifically our hospitality industry. And while we spent most of the year socially distanced, we all came together to support local small businesses. All over social media, people posted about how they were supporting local businesses and non-profits, from buying restaurant gift cards to making a concerted effort to buy from local stores. Kudos to all of the Emery businesses that took to the internet and social media for the first time to help market their products and services.
And the Emery Community remained strong in 2020. It took a global pandemic to truly appreciate the work being done day-in and day-out by doctors, nurses, paramedics, researchers and others. Many seized the opportunity to help support our communities, particularly the underserved and most vulnerable.
For now, let me wish you all the very best of this season. Stay safe and healthy. Most importantly, let's look forward to 2021 that brings with it a better, brighter, and more secure future, including a new post-pandemic reality and opportunity for Emery businesses and residents.
I have one last ask of you for 2021. Please consider shopping locally from all the small businesses that fought and struggled this year. Your business will mean the world to them, and your support may help them stay open during these difficult times ahead.
Publisher
Sean R Delaney