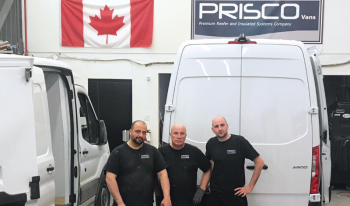 By Sean Delaney
Do you need fresh product, transported safely, securely, and in the cold?
Emery Village has the business for you.
Prisco vans began approximately eight years ago. The concept developed from the experience of one of it's owners, Roberto Vettese.
"I used to repair refrigerated vans for the food industry," he said. "My background is that I'm a licensed car and truck mechanic and I started to get into automotive refrigeration and truck refrigeration for food transportation."
And as he began to do more of it, Vettese noticed a hole in the market. There simply weren't a lot of companies doing high quality insulation work for the food industry.
"There were a couple of key players, but none really at all to speak of in Toronto."
So he began to get an idea that it was a gap he might be able to close himself.
He traveled to Europe for a couple of trade shows, investigated the best practices there and brought it back to his business in Emery. Now, Prisco Vans is a leading installer of custom refrigeration boxes for the food industry in Ontario, and beyond.
In other words, they take quality stock vans, and make exactly what you need for your business or product.
"Let's pretend you're a butcher," Vettese said. "You go to your local Mercedes dealership, tell them what you need, and the salesperson will call us, because we're an approved vendor for Mercedes Benz of Canada. They can give the customer a price, and we get a Purchase Order issued to us through Mercedes Benz. That way customers can purchase the van and have the financing of our job included in their payment."
And Prisco deals with a number of big companies, including Ford.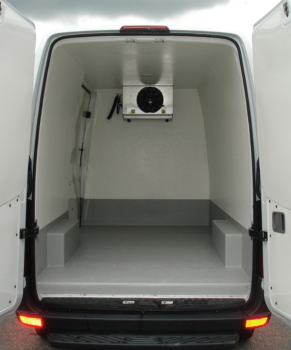 "The Mercedes Benz Sprinter and the Ford Transit are the most common," Vettese said. "But we're seeing a lot of home delivery from companies, so we're doing a lot of different vehicles now. A lot of butchers, bakers, florists, pharmaceutical, anything that requires refrigerated transportation."
In fact, the company that began averaging approximately 20 vans a year, is now up to approximately 120 a year.
Vettese was born and raised in the Emery area, growing up at Finch and Weston, and his partner Robert Mercieca lives in Emery today.
They love the area, he said, and are impressed with the amount of improvement that has gone on. But of course, like many businesses, it was the ideal business location that drew their interest.
"We've seen a lot of changes for the better," Vettese said. "More production, more jobs, nice signs, they've cleaned up the area. Its very nice. Now, you see clean roads, flower pots in the meridians, it's been very good for our business."
And business is good, as Prisco is expecting another expansion soon.
"This is the area you want to be, with access to the 400, the 401. The supply of parts is local – everything is here."
Prisco Vans is located at 161 Deerhide Crescent.
You can reach them at: (416) 748-8267
Or visit: priscovans.com