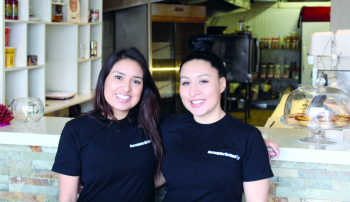 By Sean Delaney
(Right) Churrasqueira Sao Miguel owners Nathaly and Dianna Coronel.
.
Nathaly and Dianna Coronel love traditional Portuguese food, and the owners of the new Churrasqueira Sao Miguel restaurant are ready to bring the best of their passion to Emery Village.
Employing an experienced Portuguese cook, they've put their passion into form, opening the doors of Sao Miguel just 10 months ago.
It's a traditional establishment serving rotisserie and grilled chicken, potatoes and rice, as well as specialties from Monday to Saturday.
"Chicken stew, beef stew, it varies," the owners said while sitting down with the Emery Village Voice. "We based it (the restaurant) on the island of San Miguel, so we pick our daily specials to reflect that."
The cod fish has proved a popular dish, and healthier options are on their way as they continue to work on and expand the menu.
They serve Portuguese custards and pastries that are receiving rave reviews, but the goal of every restaurant or chef is to be known for that one signature dish, and Sao Miguel has already achieved that.
"Our chef's hot sauce," the pair said. "We are already known for it. Our customers say it's a little different from the typical, and we already have regulars that come in just for it."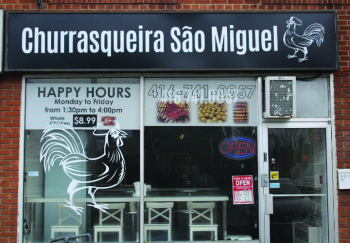 And the secret to their success so far, they're convinced, is in taking the time to make sure everything is a little better than the typical.
"We take our time preparing," they said. "There's no rush, rush, rush. And while it might take more time, we think our customers appreciate good food we take time making."
The restaurant is located at 2831 Weston Rd. and can be reached at: (416) 741-0057
They are open from Monday to Saturday from 11 a.m. to 8 p.m.
Along with their daily specials, they feature a student special for $4.99.
(Right) The restaurant front on Weston Rd