By Sean Delaney
The Weston Area Emergency Support (WAES) food bank has never seen a year like 2020. But throughout the pandemic, WAES chair Diana Stapleton said it's also been a year that has shown just what a community can do when the need becomes great.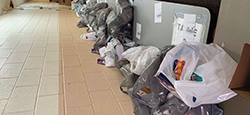 "It's been a really amazing experience, to be honest, just seeing how a community really does pull together and make things happen," Stapleton said.
The WAES food bank opened in 1986. It was started by a group of about 14 faith organizations to support the community. It is a one hundred percent volunteer run organization that Stapleton has been with for 27 years. Before 2020, she said, they had a strong core of volunteers working on different areas and was running quite efficiently and effectively.
"People in the community would support us through cash donations, schools doing food drives, faith organizations running fundraisers, clubs like Lions and Rotary all helped keep us going," she said.
And they were in one location for about 25 years but had been looking for a new location as their previous was simply too small.
"We couldn't offer services in a way we felt best served the community," she said.
The Central United Church came forward and said, like many big old churches, they had lots of space that wasn't being utilized. And the area ticked all the boxes for WAES in terms of needs. It was a bigger space, had street and wheelchair access, a kitchen, and washrooms. So, in September of 2019, they moved in.
If COVID-19 had hit while they were at their old location, Stapleton said, they would have closed. Instead, as Toronto lost food bank after food bank, after March of 2020, WAES saw their numbers drastically increase. The number of users went from approximately 650 a month to 2,600 to 2,700. And since May, they have averaged 2,200 a month – three times what they used to.
Within the food bank, they previously operated with a shopping model. Users came into the building and would walk through and pick the food they need. But with COVID-19 spreading, nobody could go inside. They then moved to pre-made bags of food they could hand out outside.
And in March, they lost 90 percent of their volunteer base as most of their volunteers were over 65.
"Almost all of our volunteers who we have now came forward then," Stapleton said. "People with reduced work hours, or who weren't working and that felt safe doing it. We now have people there every day, in two shifts, morning and afternoon, to get done what needs to be done."
The food banks also had to begin buying more food. Faith organizations and schools couldn't do food drives or fundraisers during the pandemic.
"The number of things we were hit with at once was pretty intense," Stapleton said.
Grocery stores even struggled to supply them because their supplies were restricted.
The first months, she said, were pretty wild. But they've settled into new systems, hired a manager to oversee the food bank and were stunned by the amount of community support that came forward.
"We got double the amount of financial support in 2020 than what we received in 2019," she said.
And it was a true blessing they did, as they had many new infrastructure items they needed to purchase to operate, including Personal Protective Equipment (PPE), tables, bins, sanitizing products, as well as other things they hadn't previously needed.
"Fifty percent of the people coming to the food bank now didn't come a year ago," she said. "And it's the community support that has made it possible for us to keep doing what we do."
To volunteer, or just support the WAES food bank yourself, contact them online at:
waes1kingstreet@gmail.com
Or phone them at: 416-247-3737
They are located at 1 King St. (in Central United Church's building) and can be found on the web at:
www.waes.ca