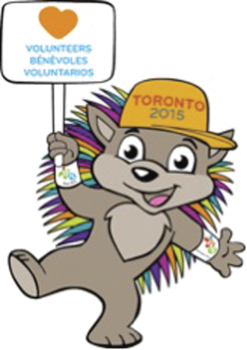 Volunteer opportunities abound for Toronto multi-sport games
By Sayada Nabi
In less than 200 days athletes from all over the world will descend on Toronto for the 2015 Pan Am/ParaPan Am Games.
The excitement of the Pan Am Games was first felt this past April, when the 80 km path that will connect so many parts of Toronto, including a segment in York South Weston, was first featured.
Executive Director of the Friends of the Pan Am Path, James Meers, recently stated, "this year we are organizing a large 14-week public arts festival to celebrate the Pan Am Games."
The focus of the Pan Am Path is to create a lasting legacy for Toronto, by uniting the communities through arts and music.
There is so much talk about being a part of the Pan Am legacy, and luckily, residents don't have to be an athlete to participate in the games.
Countless volunteer and paid positions are available prior to the international event. For instance, 70,000 volunteers – who enthusiastically contributed their time and energy – made the 2012 London Olympics possible.
The Toronto Pan Am/Parapan Am games is hunting for 23,000 volunteers and the positions will not go without perks – including "getting a high-five from PACHI," the games' official mascot.
Volunteers will also get a sneak peak of the opening ceremony, which is created and conducted by the immense talents of Cirque du Soliel, a world famous Canadian theatre production that can boast being the worlds largest theatre production. Cirque du Soliel is a combination of circus arts and street entertainment.
Volunteers will also receive exclusive access and discounts to Toronto 2015 events, promotions and merchandise.
The games will be a highlight of 2015. It is time to take a chance and be a part of Toronto history.
If you are under 18, and cannot volunteer, go with your friends and family to check out the sporting events.
For more information about the volunteer opportunities available, and buying tickets visit: toronto2015.org/
PAN AM FACTS:
The Pan Am/Parapan Am Games are the world's third largest multi-sport event.
The first Pan Ams were held in Buenos Aires, Agentina in 1951.