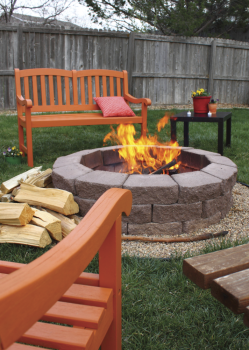 By Ron Lazzer
Summer is slowly coming to an end. The days are shorter, the weather starting to cool, and the kids are looking forward to going back to school. It's been a hot summer with lots of opportunities to spend time outdoors, but just because the seasons are changing it doesn't mean we can't continue to enjoy the outdoor weather. Let's look at ideas to extend our outdoor living.
Fire pits are an excellent way to provide a little warmth in the fall. You can gather with others in the evening after dinner or on weekends as the nights cool. There are many varieties available, from having one custom-built to going with a ready-made model. The newest trend is the propane-powered fire pit – virtually maintenance free.
Your fire pit can also warm your belly as many models can be used for cooking as well as heating. Try grilling a steak or warming some soup for those cooler nights. Want to bring your kids outside? Get a bag of marshmallows and roast them over the fire. They will love it and you will love how it brings everyone closer together.
While fire can also light your backyard nights, try complementing the flickering flames with strings of lights hung on your deck railing or along a fence. A few strings in strategically located spots will bring your backyard to life when the sun sets. Also, consider a lantern filled with a set of string lights set on a table. Your guests will comment on how magical your home looks.
A new idea is to also hang curtains on pergolas to enclose your patio or outdoor space. This will block out the cold while holding in the heat and give you an intimate space to spend time with your loved ones. It can also be a place to watch children play in the backyard where they can come back and rest before heading back indoors for the evening, with the flexibility of opening the curtains during the day when the sun is shining.
And if all this isn't enough, keep a basket of blankets and wraps around to keep people warm. Also take advantage of your vegetable gardening and serve up some recipes with ingredients from your garden. Head to the Toronto Public Library and sign out a book with fall-inspired recipes to make the most of the Autumn's offerings. Your family will delight in your season-based cooking and will hold you in high regard as the best cook around.
Try any or all of these ideas and let me know if you have any others I haven't mentioned. Just because the seasons are changing doesn't mean we can't continue to enjoy it. In fact, it is the change of seasons that makes our environment so interesting. Take advantage of it.
Ron Lazzer is the owner of Bellevue Landscaping. If you have any questions or comments please email them to: Ron@BellevueLandscaping.ca