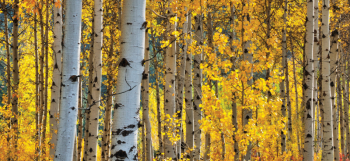 Finding your colour in the fall
By Ron Lazzer
What a beautiful and warm October it has been. Annuals have bloomed for much longer due to the warmer weather and the leaves on the trees have taken longer to change colour and fall off.
Although everything is starting to turn brown and grey there is still lots of colour to be found. Take stock of where the colour can be found now and plan your landscaping for next year.
Many shrubs at this time of year are showing off what they can do. Those that have berries can add a touch of colour when everything seems to be turning brown. Magic Berry is a small compact shrub with purple berries in the fall that can brighten your day. Another example is Pagoda Dogwood whose leaves turn a purple colour in the fall. The berries are dark blue and attract birds. Many other shrubs will have bright red berries at this time of year as well. Burning Bush is a good example. If you see a bright red bush in the fall then you're probably looking at a Burning Bush. It's such a spectacular sight.
Trees are an obvious source of fall colour too. The most famous around our parts is the sugar maple which turns a magnificent bright red. Other trees can turn yellow or orange leading to the beauty we most commonly notice in the fall.
Interesting colour can also be found in other parts of trees. When the leaves are all gone the bark of the birch tree remains a beautiful white with black. This is a beautiful contrast to the grey bark of many dormant trees.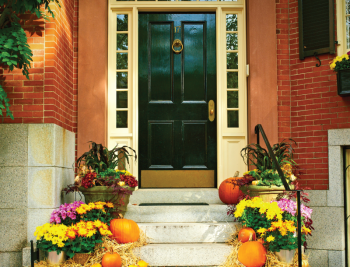 Finally, you can look to other sources of colour like the pumpkin. This is one off the strongest symbols of fall we have. A few different sized pumpkins on your porch or steps will draw attention to your home in a tasteful way that also evokes the characteristic feelings of the season. Wreaths, autumn garland, and straw will also signal to others that you are in tune with nature and know how to express it.
Aren't we lucky to have so many ways to keep our homes looking warm and inviting? Try some of these this year or plan them for next year and see how much positive attention you get from your neighbours. You might become the talk of the neighbourhood - in a good way. Enjoy the colours!
Ron Lazzer is the owner of Bellevue Landscaping. If you have any questions or comments please email them to: Ron@BellevueLandscaping.ca