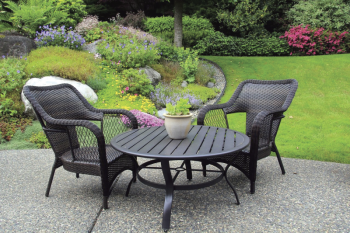 By Ron Lazzer
Welcome Spring! It's nice to have you back. I always look forward to the change of seasons and winter is just as welcome as any other season but like a guest that lingers too long sometimes it's nice to see it leave. So goodbye winter and hello spring.
Although it's still early in the season and we can have erratic changes in weather, now is an excellent time to start planning our landscape designs so we can spend more time outside.
The first step is to think carefully about how you would like to use your space. Are you regularly having dinner outside? You might want to build your landscape around a central patio where you will be sitting. Do you need a space for children to play and explore? Then a wide open lawn with some trees will serve your purpose. If you are the type of person that likes to sit and think about life while gazing at a garden then focus your design around the garden.
This is your space so use it in whatever way you like.
The second step is to choose the specific elements you want to include in your landscape. Think of your landscape as a living, breathing extension of your home. It will change over time with all the different parts changing in relation to each other just like we all change both personally and in our relationships with each other. Your landscape will grow and develop along with your family. So when you're installing a pergola, for example, keep in mind how it relates to your overall landscape. How and where does it cast shade? Does it block your view of a nice scene? Does it fit in with the overall style of your home. How will it fit in when your trees and plants have grown over time. These are important factors to consider in order for your landscape to be inviting to yourself and your guests.
Now it's time to plan the order of your landscape installation. Hardscapes go first. Fences, decks, patios, walkways, retaining walls, pergolas, gazebos and sheds should be installed first so that you don't damage the more delicate elements like trees and other plants. Your garden goes last. At this point all the heavy and rough work is done and all you have to do is dress it up by adding flowers, shrubs, and trees.
Follow these rules and you'll have a beautiful, relaxing, and inviting space where you can rest and nourish your soul or entertain family and friends and cleanse away the day-to-day stresses of life. My friends, make your preparations now because spring is here and it won't last forever. Get out there and enjoy all the season has to offer.
Ron Lazzer is the owner of Bellevue Landscaping. If you have any questions or comments please email them to: Ron@BellevueLandscaping.ca