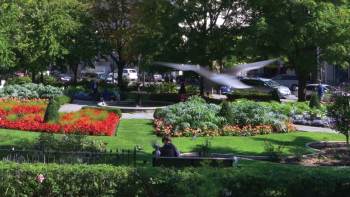 The best of the gardens at our feet
By Ron Lazzer
Summer is my favourite time of year. The days are long, there is less rain (usually) and most plants have had enough time to grow and reach their seasonal peak. I love to sit in a beautiful garden and relax while admiring how all the different species of both plants and animals come together as a whole to create a magnificent scene. If you're looking for somewhere where you can pause, relax, and contemplate the beauty of nature here are three of my favourites:
James Gardens
This is one of my favourite gardens in the city. They have a wide variety of plants and scenery to keep everyone interested. They even have a kids garden to keep the little ones occupied. I particularly like to sit on the benches where you can get an overview of the park because it reminds me of a beautiful Baroque painting. It is well known for the many tulips that bloom each spring. There must be a million of them. If you like birds this is one of the best places in the city to see them while walking trails and cross-country skiing trails will keep the most active people satisfied.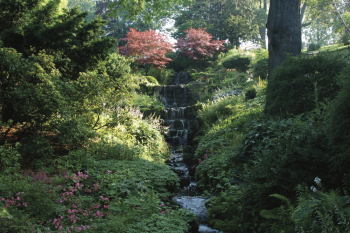 Edwards Gardens
Edwards Gardens also houses Toronto Botanical Gardens whose purpose is to educate the public about gardens and plants. This means not only do you get a beautiful garden to enjoy but you also get to learn about the plants. Do you want to know what else there is? Walking trails, parties, music in the park, unique plants, garden café, tours, many different kinds of insects - if you're into that sort of thing, farmer's markets. The list for this place is infinite so you can go back again and again and find something new and interesting. This is a definite must visit place for the whole family.
High Park Gardens
This is a very popular garden with tons of flowers, plants, and people. Every year when the famous Japanese Cherry trees bloom the park is full of visitors taking in the breathtaking spectacle. And who could forget the scandalous "Bonnie and Clyde" Capybara escape? Those two funny looking animals were on the run for quite a while before being recaptured and reunited with the rest of their friends in the zoo. There's also the hillside gardens which can be enjoyed at any time of the year not to mention, the pond, café, tree house, and children's garden. You will get lost in nature here.
But my question to you is why don't we have a famous formal garden here in Emery Village? Don't you think we deserve one? We certainly have some magnificent parks and we definitely have some small gardens worth appreciating. So if you feel the same way and want to see a magnificent public garden in the future or would like to see an existing garden develop just drop me a line and let's get the conversation started. Enjoy the rest of the summer.
Ron Lazzer is the owner of Bellevue Landscaping. If you have any questions or comments please email them to Ron@BellevueLandscaping.ca