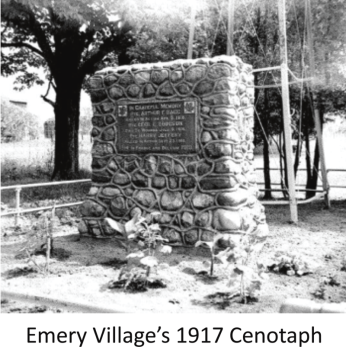 By Tim Lambrinos
Every year, Nov. 11 is a day that symbolizes remembrance in Canada.
The day allows an opportunity for everyone to give tribute to our fallen soldiers. We can reflect upon the enormous loss of lives and those who sacrificed their own to maintain peace and freedom for everyone.
It has become a day to remind Canadians of the savageness of two world wars and to never forget the sacrifices of those "glorious dead" of yesteryear.
Emery Village actually had its own dedicatory combat marker that was built in 1917 on the northeast corner of the intersection of Finch and Weston Road. The structure served as a community memorial to honour local soldiers who had sacrificed their lives in the first World War.
Immediately following the war, nearly every small town in Ontario built and erected their own personal tribute acknowledging and commemorating fallen heroes of their own local communities. These memorial structures were called cenotaphs. They were monuments, some with statues, some with plaques, some were more massive than others but all were righteously unique. The design and construction of every cenotaph was intended that they be a one-off, to be artistically modeled by local artists from each respective community.
Emery was no different and in 1917 our own cenotaph was built. The stone structure stood prominently and proudly near the northeast corner of Finch and Weston Road, immediately in front of Emery's newly built school of 1914. It was a solid stone structure with masonry and concrete work emulating the distinctive large grooving technique also used on Casa Loma's perimeter walls.
When the Emery Public School closed down in 1958, both the school and the cenotaph were left alone, aging for five years. The building of Daystrom Drive Public School in 1959 and the building of Emery Collegiate Institute in 1961 made the old property obsolete to the North York School Board and was then marked for demolition. By 1963, modern construction meant the intersection would be leveled, along with Emery's cenotaph.
Luckily, we have learned that if it had not been for the quick responding actions of two particular residents of Emery (Jim Baird and George Butterwick) both the 1914 school bell and the 1917 plaque from the cenotaph would have been all but lost. According to son Ian Baird, his dad and Mr. Butterwick both raced over to the old school property at the Finch and Weston Road intersection when they saw bulldozers beginning to demolish the old building in 1963.
The school bell and the cenotaph plaque were saved by the two men and both pieces have stood proudly within a cairn in Emery Collegiate ever since.
Unfortunately, the actual cenotaph was regrettably bulldozed and leveled on that day in 1963 and was all but driven into the ground. The demand for the rebuilding of Emery Village's cenotaph needs to be a project that our community engages in once again.
Our cenotaph needs to be completely restored and re-erected in a location within our community in a public space that could serve to pay tribute to our fallen soldiers not only on Remembrance Day but all year round.
It would serve to be an undertaking of Emery Village community as a whole. The exact same process when it was initially completed 99 years ago.
It's that time of year once again when our community is reminded that it would be noble to take a position to rebuild our cenotaph, hopefully in time for its 100th anniversary.
It could be a great community initiative that would serve as an opportunity to show unity.
Federal funding is available for repairs to community cenotaphs, so why can't we receive some funding to take on the project of having it rebuilt?
We have recently reached out to our federal MP, Judy Sgro who has always been a champion of these type of causes.
We are looking forward to a positive response from our Member of Parliament and we look forward to everyone helping to get the next steps going.
If you would like to be involved in this historic initiative, contact the BIA office at 416 744-7242 or by email: info@emeryvillagebia.ca.