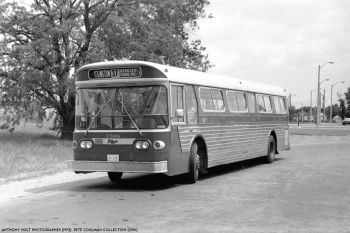 Behind their names and TTC history
BY CLAUDIO D'INTINO
Finch Ave W, Steeles Ave W, Weston Rd, Sheppard Ave W and Islington Ave, are the major arterial roads in Emery Village.
Finch Avenue is named after John Finch. He built "Finch's Hotel" in the 1830's, a two-storey frame hotel on the northeast corner of Finch and Yonge. Up until the 1960's, Finch ended west of Weston Rd. It was then extended into Etobicoke. Finch Ave now ends at Steeles Ave in Brampton.
TTC service Finch 36 was extended to Weston Rd in 1965. With the opening of the Yonge Subway line in 1974, Finch West 36 operated west of Yonge.
Steeles Ave is named for Thomas Steele and his son John. They operated the Steele's Hotel on the northeast corner of Yonge and Steeles beginning in 1856. The TTC Steeles West 60 service began in 1974 when service was extended from Jane St.
Sheppard Ave was named for Joseph Sheppard. He owned 400 acres of land at the Northwest corner of Sheppard and Yonge St. The TTC Sheppard 84 was extended to Weston Rd through the Downsview military base in 1964. It became Sheppard West 84 with the opening of the Yonge Subway line.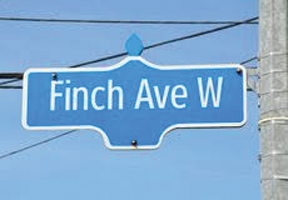 Islington Ave is named after the village it passed at Dundas Street. The name was selected by Thomas Smith's wife, Elizabeth, her birthplace near London, England. TTC Islington 37 bus was extended to Steeles in 1971 (See picture). In 1972, Islington 37 terminated at Islington Station with the opening of the Bloor Danforth subway line.
Weston Rd is named after the village of Weston, located near Lawrence Ave W and Weston Rd. In 1815, mill owner James Farr came up with the name for his birthplace Weston, Hertfordshire. Weston Rd was known as Main St in the town of Weston.
In 1959, a new rush hour bus service route (NORTH MAIN 57) was created from the Oak loop to the Gulfstream area. The Oak loop was the end of trolley line Weston 89. TTC service on Weston Rd, eventually became a branch of the 96 Wilson route. Service improvements were made in 1961and 1962 to Habitant and Weston Rd. In 1965, service extended to Finch Gardens, Finch Avenue West and Rumike Rd. In 1972 service extended to Milvan Drive. In 1983, TTC service was rearranged to allow through service to Steeles. The Milvan loop was changed over the Finch West 36. In 1990, service extended in Vaughan. In 1991. Weston Rd North 165 replaced the 96 Wilson Service on Weston Rd.
The new subway extension opening later this year, will have stations at Downsview Park, Finch West, York University and Pioneer Village.