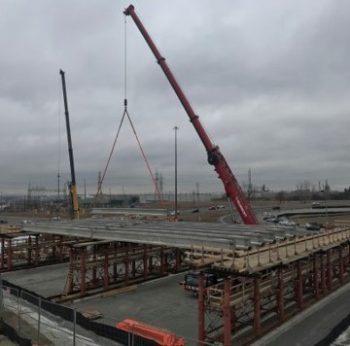 By Tanisha Samuels
Toronto West Office I Metrolinx for the EVV
As we work on building up Finch West, the Finch West Light Rail Transit (FWLRT) team is currently working on rehabilitating the Bridge at Hwy.400.
Crews will be using the Rapid Bridge Replacement (RBR) method to aid in this process.
The RBR technique allows bridge replacement with minimum disruption to traffic. The replacement bridge is constructed on a site near the bridge being replaced.
Currently, at Hwy. 400 a crew is busy focusing on building new decks for the bridge rehabilitation work.
Instead of demolishing and removing the new decks in live traffic, we'll reduce traffic impacts by first constructing the new decks on large steel scaffolding beside the highway.
We'll be building two decks, each 40m long x 25m wide and 15,000 tonnes on the scaffolding.
To facilitate this work, there will be periodic lane reductions at the on and off-ramps to Hwy. 400
A crew is receiving girders to support the construction of the new bridge decks.