By Sean Delaney
Special guests from the Toronto Catholic District School Board, the Province and the community were on hand to celebrate as the sod was turned to mark the start of construction on a new building for the students and staff at St. Simon Catholic School.
Sod was overturned Friday, May 20 at 24 Strathburn Blvd., which will house the new two-storey, 5,300-square-metre school. The site was the former home of Melody Public School, since torn down. The Toronto Catholic District School Board (TCDSB) purchased it from the Toronto District School Board (TDSB) after the school was declared surplus. The new $12-million school is fully funded by the Ministry of Education and will house 542 students from junior kindergarten to grade 8. It will also include a gymnasium, stage and multi-purpose room available for public use outside of school hours.
"I am delighted to see this project moving forward at last. The students in this neighbourhood deserve a new school that is modern and up to date, and can provide a better learning environment. I am looking forward to celebrating with the entire community when this project is completed," said Sal Piccininni, Ward 3 Trustee
"TCDSB is grateful for the continued support of the Province of Ontario in helping us to respond to the needs of our school communities. We are all partners in learning, and it's wonderful to see what can be accomplished together." said Angela Kennedy, TCDSB Chair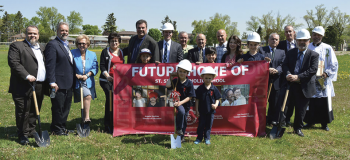 "Student success and well-being remains our top priority. We know that students succeed when they are provided with the resources, facilities and staffing that inspire them to learn and to grow to their full potential," added Angela Gauthier, Director of Education TCDSB
And Mario Sergio, MPP York West added to the praise.
"I am so pleased to see the construction of a new school right here in our York West community. We are making sure that students have safe, modern and accepting places to learn and grow, no matter where they live. This investment will help every student reach his or her full potential and succeed."
This project has been in the making for more than 18 years. A big round of thanks should go out to Parent Council chair Emidio d'Alfonso as well as former Parent Council chair's Rick Miotto and Robert Zanellau. A special mention to someone who did some heavy lifting to get approvals, Sal Piccininni, Ward 3 Trustee. Mario Sergio MPP York West and the Ontario government should also be thanked for lending their support and more importantly, the funding! The Sod Turning event was well attended. Judy Sgro was in Ottawa that day so Antoinette from Judy's office was in attendance and the Priest from St Jude that blessed the new property.