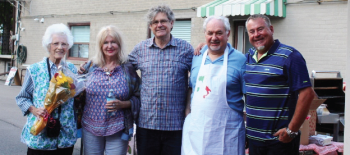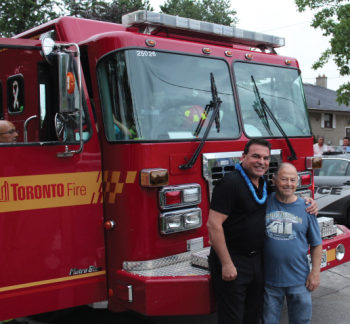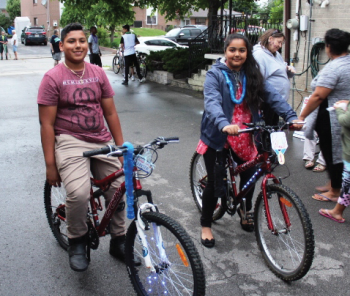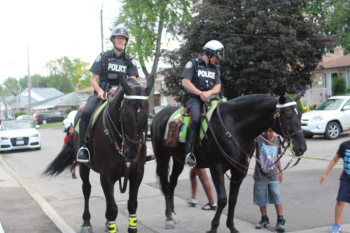 By Sean Delaney
There are many of us that look forward to the third Tuesday of each June.
The event is called Neighbours night out.
A very special person named Lee Jackson – a shining example to all of us as an Emery Village resident – helps to make this a better place to live. For 18 years now, Lee Jackson has hosted the local community gathering we call "Neighbours night out."
It is free for all to attend. This year was all that more special as Jackson has been under the weather for a while. It was great to see her smiling face once again.
The rain tried to quell the excitement and comradery but to no avail. Like clockwork, the skies cleared up in time for all of us to really enjoy the evening.
This year the BBQ was hosted by The Emery Village Voice.
Al Ruggero of the Emery BIA took on the main task of cooking and serving up more than 140 hot dogs.
Many of the neighbours also brought delectable edibles along with desserts. Desserts were plenty and in all forms from cakes to cookies to donuts, the latter thanks again to Ralph Sheperd and the Tim Hortons at Rivalda and Sheppard Ave.
In addition to the wonderful food four Officers from the 31 Division community policing group joined in the fun. Local children were thrilled to sit in the patrol cruiser and test out some of the louder features of the vehicle. A big thanks goes to the Toronto Police Mounted riders. They are always a class act. Doris Roy was clowning around for her fifth year handing out colourful Hawaiian Leis. Luana of the Emery Village BIA was on hand doing face painting for many of the children that attended.
Councillor Giorgio Mammoliti was in attendance once again and was able to say a few words to the community members.
Every year there is a contest for showing up with the best-dressed bike.
The award was given out to two of our young Emery residents. Our heartfelt thanks once again goes out to Lee and her many friends that helped out this year.
Lee says that she hopes to see everyone again next year!