IDEAL LOCATION, INCREDIBLE PRICE DRAWS YOUNG PROFESSIONAL's TO LINDVEST'S THE BROWNSTONES AT WESTOWN
Carlo S. lives in York Region, works in sales in Toronto's west end and enjoys going downtown for entertainment. When he decided to move to a more convenient location, a friend recommended the Brownstones at Westown, Lindvest's newest addition to its thoughtfully planned community at Weston Road and Sheppard Avenue West. This collection of stacked two-bedroom townhomes is remarkably priced from $329,900, and maintenance fees are approximated at an unbelievable $0.19 per square foot. A first-time buyer, Carlo was surprised to discover how much more he could get for his money in this 416 location than a downtown address. "The price was very attractive for the size, and the location is perfect for me," Carlo explains. "My family will be 20 minutes away, downtown is 20 minutes, and my work will be only a half an hour commute. The area around The Brownstones is really building up, and I believe my investment in this townhome will increase as it does." He refers to Westown, the new established area that is close to a wealth of amenities. In the vicinity, residents can access completed parks (including a recently opened sports field and splash pad), playgrounds, ice rink, walkways, schools, shopping, services, places of worship, Oakdale Golf & Country Club, Humber Valley Golf Club, an assortment of restaurants, grocery stores and food markets. TTC is literally steps from the front door, and Highways 401 and 400 are a few minutes' drive.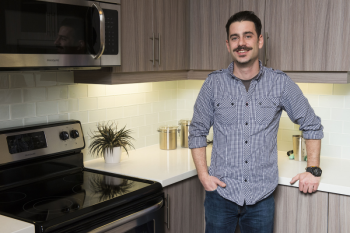 Carlo is also thrilled with the architecture of the Brownstones, which is by RN Design. Inspired by New York's iconic brownstones, Lindvest's new residences pick up on their 19th century look and feel, yet have contemporary details on the traditional brick exteriors. "I really like the exterior, which is very modern and appealing," Carlo says. In addition, the striking elevations will be finished off with professionally designed landscaped areas.
Contemporary interiors by LUX Design offer high-quality features and finishes, including (all as per plan) high-performance laminate and rich ceramic tile flooring, stained oak stairs with handrail and upgraded black iron spindles, smooth-finish ceilings throughout, kitchens with upgraded cabinets and quality appliances (self-clean oven, frost-free refrigerator and built-in dishwasher), and an ensuite laundry room with a stacked washer/dryer. Some designs have patios or balconies with glass privacy screens. Prices for the one- and two-level suite designs include one underground parking spot.
It all adds up to remarkable value, and that fact isn't lost on Carlo, who chose the 942 square-foot Astoria design on the ground floor corner. "I appreciate having two bedrooms, because I can use the second one as a home office or a guest room. This townhome fulfills my present and future needs, and it feels more like a house than a condominium." He adds that the Lindvest sales representative was very helpful during the purchase. "This was a brand new experience for me, and I'm happy with the result."
Lindvest is a Toronto-based builder/developer with deep roots spanning six decades in the highly reputed, award-winning H&R family of companies. Founded in 1998, Lindvest is committed to delivering the utmost quality in design, construction and service, continually putting homeowners first. The company's vision is to build outstanding homes and communities where residents can live life to the fullest. Thousands of families already live in Lindvest homes across Ontario.
Visit the Brownstones at Westown's Sales Office and Model Suite today, located at 2277 Sheppard Avenue West. Hours are Monday to Thursday from 1 to 8 p.m.; Saturday and Sunday 11 a.m. to 6 p.m. For more information call 416-740-1175 or visit: www.lindvest.com.