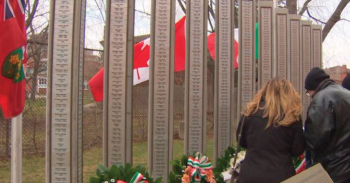 Memorial Service Pays Tribute to Hundreds of Fallen Italian Workers
More than 1,000 workers of Italian origin killed in workplace incidents in Ontario were remembered at a ceremony in North York on Saturday April 29th.
The ceremony follows the unveiling of an Italian Fallen Workers Memorial Wall two years ago. The wall commemorates approximately 1,000 Italian workers who lost their lives on the job over the past century.
Another 600 workers were added to the wall in 2017.
The Consulate General of Italy Toronto says the number of Italian workers killed on the job has now surpassed what the wall can hold.
Marino Toppan, a labour rights activist and author, addressed the crowd before construction tools and supplies were laid down in memory of those who have lost their lives.
Toppan said all Italians living in Canada owe their success to those who have passed.
"The most significant part of this ceremony is to remember these men who lost their lives in this country doing humble work using simple tools as miners," Toppan said.
"They pressed their simple tools in their rugged hands and built our future."
At the memorial service, the Medaglia d'Oro al Merito Civile was presented.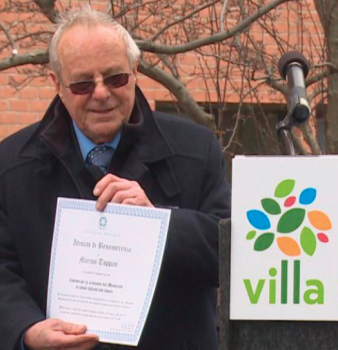 According to the Consulate General of Italy Toronto, the medal is one of the highest honours given by Italy. It was given out for the first time in Canada at the event.
Toppan accepted the honour and dedicated the medal to the discovered and yet to be discovered fallen workers.
"This Medaglia d'Oro is a symbolic recognition of their duty to their family's future and their hope for a better life," he said.
"Let us never forget that this medal was earned by the fallen workers themselves, the family they left behind who suffered and those of us who have (been) working hard to make sure that this story was told."
Toppan passed along the medal to Villa Charities, which was asked to hold the medal in trust.